So it seems that Blue Moon Brewing Company won a bunch of gold medals at this year's World Beer Cup. After reading the news, I decided it would be timely and make sense to review a Blue Moon beer that I had on hand.
I've been hearing a lot about Blue Moon over the last year, but it didn't seem to be that common in the Jersey area until recently. I was given a six-pack of the Blue Moon "Rising Moon", which is their seasonal Spring Ale, and this will be the beer I am reviewing for The Brew Club today.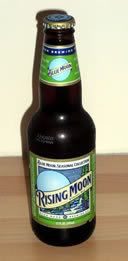 According to the label, Rising Moon spring ale is a blend of "...three varieties of specialty malts with Kieffer lime leaves and lime peel…" I know there is something of a trend with these lime-flavored beers, so I wasn't sure if the Blue Moon entry was going to be a leader, or a follower. Let's see!
I opened it normally and poured it into my standard reviewing glass (I know, its an iced-tea glass. Blasphemy!) It poured nicely, and created a pretty foamy head that almost went over the glass on me! The beer simmered-down shortly in the glass, and I began my sensory investigation.
Blue Moon's Rising Moon had a very nice amber color to it in the glass. It was nice and clear, and it had some bubble-action, but nothing crazy. The Rising Moon Seasonal Ale had something of an odd smell to it that I can't really describe, but it did not smell like limes. It smelt a little weird actually, and overall, the smell is what I likes least about this beer. Can a scent be described as "bitter"?
Anyway, I took a swig and was on the lookout for an overpowering lime attack on my taste buds, but that did not happen. What I found after drinking this beer was that the lime flavor was quite delicate, and really could only be detected after the beer went down. A subtle lime aftertaste is the best I can describe it. It is definitely not lime-flavored beer, which in my mind, is a good thing.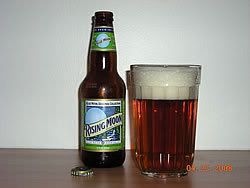 The Rising Moon went down pretty smoothly, didn't sting or taste bitter at all, in spite of what the scent might have had me predict. Overall, it was enjoyable to drink.
Would I buy it again or recommend it to a friend? Sure, I guess I would. It wouldn't be at the top of my list, but the Rising Moon spring seasonal ale is certainly a decent beer with that stands out as just a little different, and not quite what you might expect.
Rating: