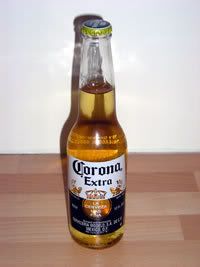 Corona Extra is one of those beers that for some reason, everyone thinks of when it gets warm out.   Another one of those "summer beers" that people take to the BBQ or whatever. Why is that?
Up here in the often frigid Northeast, nobody thinks about Corona after Labor Day. It just isn't the type of beer you have while sitting in front of the fireplace!
Our purpose at The Brew Club, is to determine if Corona is simply a success due to the marketing, or is it really something special that you might consider enjoying in the middle of January?
The Brew Club's annual Cinco de Mayo Beer Reviews samples several popular Mexican beers, and here's what I think of Corona.
In the clear bottle, Corona is a very pale, golden-yellow color. The pictures you see seem to be a little off as it looks somewhat darker in the images than my eye perceived it. I think it might have something to do with the clear glass and the brownish table the bottle was on when I shot the picture. I'll have to work on that!
The Corona "package", much like the Landshark package, says to me – "summer beer" when looking at it. The second thing most people seem to associate with Corona, is a nice fresh piece of lime to add to it. Not easy to find in December! The power of marketing! I mean, am I wrong about that?  Also, does lime really enhance the flavor of the beer, or is it designed to mask something (like the taste?) Hmmmm.
Anyway.
The Corona had a little (very little) carbonation to it as I poured it into my standard beer testing glass, and it made almost no head of foam whatsoever, and there was no lacing on the glass to speak of. It was just about the flattest beer I had ever seen in my 25 years.
Drinking it revealed a slightly carbonated tingle (very slight) and it didn't present any kind of interesting flavor at all. It wasn't heavy feeling, and it didn't leave an aftertaste really. It was almost like beer-flavored water. Rather unremarkable, unless of course this comes out of the tap when you actually want water and you get this.
Overall, the Corona Extra tasted "extra-regular" in every sense of the phrase. It just didn't do anything to stimulate or interest me and it just doesn't have character which might make it a more distinguishable beer from others. Maybe that's what the lime is for?
Would I recommend it?  Sure, it's good at the BBQ with a slice of lime and some friends during the Summertime, just like the marketers tell me.  If you're into the Corona with Lime scene , you might be inclined to try the Bud Light Lime or maybe even the lime flavored beer from Blue Moon.
Rating:
Do you like the Corona Extra?  Do you have it with lime or straight-up?  Let us know!