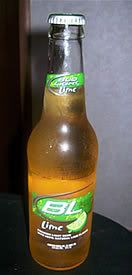 My name is Liz, and this is my first beer review for The Brew Club!  Let me just start off with the disclaimer! By no means am I am an expert on beer… I just enjoy drinking it.  So the below statements are just what I think about Bud Light Lime.  OK, with that said… Let's continue with the review!
As far as 2 weeks ago, I started seeing more and more commercials for Bud Light Lime (I guess it's Bud Light's answer to Miller's Chill).  As a current Bud Light drinker, I was pretty excited about trying this lime flavored beer from Bud.I mean, come on… Who doesn't like beer with a slight hint of lime? For years people have been adding a little lime to their Coronas, right?  Blue Moon has lime flavored beer too! Its a popular trend! So, here we go! (drum roll please….)
At first glance I like the design of the Bud Light Lime bottle.It's clear and the Lime logo makes it look kind of fun and refreshing.I think they're definitely going with the summer feel here. Coincidental that they're releasing this beer in early May for the start of spring/summer and the BBQ/Summer Party season? I think not… It makes sense to get people thinking abut what beers they are going to try for the summer season, right?  Might as well be BL Lime.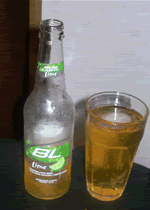 I open it up and I smell a very, very slight hint of lime, not overpowering though. I pour the beer into my small glass (sorry no beer glass either), and it produces very little foam. As you can see in the picture, my glass is pretty small so it doesn't fit the whole beer in it!
As I take my first taste of the Bud Light Lime, I can definitely taste the lime in the beer.  It's almost as if the lime flavoring is stronger than the beer itself because the taste of the beer isn't very prominent; the lime overpowers it a bit.. If I had to describe the taste as best as I can, I would say that's it tastes sort of like Sprite/7Up with a kick. The flavors are a little out of balance, more lime taste than beer taste.  In my opinion, a little overdone with the lime.
I noticed that the Bud Light Lime has a 4.2% ABV, so its not a really strong beer in that sense – right on par I guess with the regular Bud offerings.  How much does the Bud Light Lime Cost? In Jersey, I paid $6.49 for the six-pack (plus tax), so considering the average quality of this beer, I thing you can definitely get more bang for your buck.
To be honest, I'm a bit disappointed with the Bud Light Lime product, it's not bad, but I was expect something a little bit more, and it's a pretty normal light lime tasting beer. If you are wondering how many calories are in Bud Light Lime, its 116 calories.  On the other hand, I think this is a pretty decent BBQ/summer beer if you're trying to keep things light at the party.
BL Lime can help keep it light, but overall I give this beer about 2 stars.
Rating:
What do you think of Bud Light Lime?  Please share your thoughts about this very popular beer! You also might be interested in our review of the Bud Light Golden Wheat!

Liz