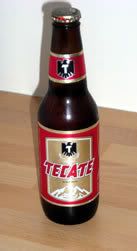 Well, I can't say I'm on a roll here with The Brew Club Mexican beer reviews lately! The second installment of our Cinco de Mayo beer-review fest is the Mexican beer Tecate.
Maybe I'm just getting tired of drinking and writing about essentially the same type of beer over and over, but as it happens, that's what I have to do!
Tecate beer comes in a brown bottle, which distinguishes it from Corona, and there are a few interesting theories as to why it comes in a brown bottle instead of a clear one.  One theory is that sun is the enemy of beer.   Clear glass offers no protection to the beer inside while brown glass does.  Is this true?   It sure is!  One of the worst things for beer is sunlight.  There's an actual chemical reaction that creates that lovely 'skunky' smell so brown glass is actually good when it comes to beer.  I've noticed many Mexican Beers come in clear bottles instead of green or brown.
Anyway, getting back to the Tecate, opening the beer of course produced no Genie, and it poured into the glass producing a very slight, rapidly
disappearing head with minimal lacing on the glass.  There was nothing interesting in the smell department either.  It has the typical golden-yellow color that Corona had, and for the most-part tasted to me just like Corona.
I would imagine that if you wanted to save a little money, you could get a lime, (or artificial lime flavor for even more savings) squeeze it into the Tecate, and have a less expensive alternative to Corona. The same could also be said without using the lime. I think the Tecate has a slightly more bitter taste that lingers and lingers in the mouth than Corona does.
Tecate seems to be your basic, basic beer.  After drinking it, I would not buy it again unless my only goal was to get drunk – I would rather drink almost anything else I think – even something with amoebas in it.  There was no enjoyment in consuming this beer, and as you may be able to detect, it is rather hard writing this review.  Sorry, but beer should be enjoyable, and the Tecate just aint!
What's your take on Tecate?  Do you like it?  Do you drink it straight up or do you add stuff like lime and salt to it?  I've also heard from more than one person that Tecate in cans is better than the stuff in bottles.  That wouldn't surprise me, but I'm not going to bother making the comparison.
Rating: