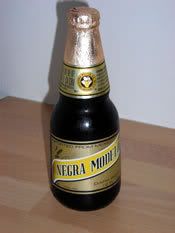 Well, I wasn't able to review all six Mexican beers before Cinco de Mayo 2008, so I'll have to keep chuggin' so that there is a comprehensive review database of Mexican beers here for Cinco de Mayo '09!
This review is of Negra Modelo beer – Visually, this is the most unusual of the Mexican beers I have reviewed or seen so far. It comes in a stubby 12oz. bottle and has a neat golden foil wrapper. The bottle is a brown color as well, and overall it makes for a very different look. Quite fancy indeed!
Pouring the Negra Modello into my testing glass (an actual beer glass this time!) created a little bit of a head, and as I swirled the beer around the glass a bit it left more lacing on the glass than any of its Mexican counterparts I've previously sampled.
It smelled a little less "beery" to me, and I suppose the correct description would be that Negra Modela smelled less of hops than the other Mexican brews did. It is a "Dark Beer" as pronounced on the bottle, and it looks to be a perfectly clear golden-brown color as I poured it into my glass. A nice change from the pale-yellow beers I've been sampling as of late!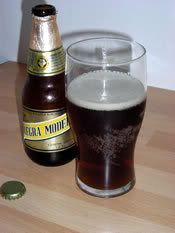 My first impression of this beer is that it's good! Negra Modelo was not too bitter, and seemed to have a more complex flavor than I was expecting. Overall it was a quite nice beer to drink. It was not heavy, and it didn't leave a weird feel in my mouth, or an overly "beery" aftertaste. Negra Modelo seems to be a little bit of a more complex beer to me – more mellow, smooth even.
Negra Modelo so far is the best of the Mexican beers I've tried for The Brew Club, and if I had another one available at the moment, I would be drinking it! I would definitely try it again, buy it again, and if you're looking for something different from Mexico to celebrate Cinco de Mayo with – give the Negra Modelo a try!
Rating: