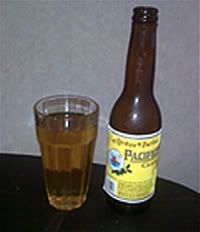 For one of The Brew Club's Mexican Beer reviews, I cracked open and tried Pacifico.   I've heard some good things about Pacifico, and many people rave about it, but like anything else there are those who dislike it and rate it poorly.  Beer  is really a matter or personal preference – To each his (or her) own! Here's my impressions of Pacifico!
My first impression was very positive. This beer had a truly distinct smell.  At first I thought it was kind of flowery smelling, and then I thought clover for some reason, and then finally it hit me!   Honey!  This Pacifico beer had a distinct honey smell! Cool!
I was intrigued at this point and didn't really look at all the clarity and bubbles and the foam produced, I just wanted to taste it! The Pacifico lager was smooth, and left a very nice honey-aftertaste.   Some people I spoke to didn't think it even tasted like beer – I did, it just had this cool honey thing going for it. I liked it a lot!
I wouldn'tt say that Pacifico is a 'honey-flavored beer", even though the color strongly resembles golden-honey, so you don't have to worry about that.  Pacifico does seem to have a bit of sweetness that really sets it apart from other Mexican beers I've tried.
Quickly wrapping up this beer review of Pacifico for The Brew Club, I would definitely try it again, and I would recommend that you try it too if you haven't.  Of the Mexican beers I have tasted and reviewed so far, Pacifico is my favorite, beating out the Negra Modelo as the "Best Mexican Beer" for Cinco de Mayo – or any time you feel like having a quality Mexican beer!
Rating:
Want to Brew Beer at Home?  Micobrew kits even have the "Mexican Cerveza Package"!