I've tried one other Saranac beer, and it was the Pumpkin Ale that they produce for the Fall season and I remember that was pretty good. So, when I saw the Saranac Caramel Porter on the shelf I grabbed it to try for The Brew Club beer review! After drinking the Saranac Caramel Porter, I'm really starting to look forward to trying their other brews. The Caramel Porter was really good!
To me, the Caramel Porter is a kind of Fall or Winter style beer that might be best enjoyed while watching football or hanging around one of those bonfires in a field on a chilly Fall night. However, my opportunity to try a Caramel Porter came in mid-May, right after I finished moving the lawn! Life could certainly be worse, and I often make these type of sacrifices for my love of science and spreading beer information!
The caramel Porter has a deep, deep amber color, and makes a rich-colored head that leaves a little bit of creamy lacing on the glass. Once poured into my testing glass, I immediately noticed the sweet aroma of caramel, which was quite nice. It smelled like it would be a good beer.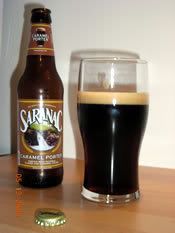 To quote the bottle, the Saranac Porter has "… a smooth, yet slightly bitter, roasted flavor." and to look for "hints of caramel" in the beer. I couldn't describe it better myself! The caramel flavor is subtle, but it is definitely "in" the beer – not just some weird caramel aftertaste. I think Porters are what people might consider as "heavy" beer, and it did feel a little heavier than the more watery-styled Lagers I've been recently sampling – but I guess it had more of a medium sort of mouthfeel rather than all-out heavy. Still, maybe a little off season for late spring, and while it was extremely enjoyable, it was not refreshing considering my circumstance!
I typically like these kinds of beers anyway, but this one was different with the Caramel flavor, aroma, and overall quality. I can't think of a bad thing to say about the Saranac Caramel Porter! Go try one and let us know. What did you think?
Rating: