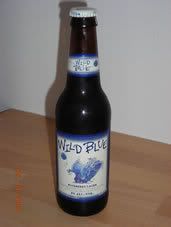 This beer review of Wild Blue Blueberry Beer is the first review I am doing using the new and improved "Proper Beer Pouring" technique discussed earlier.  I'm also letting this Wild Blue Beer sit in the glass for a little bit before I chug it all down. Let's see if it makes a difference or not, shall we?  Wild Blue is also the first Blueberry Beer that I'm reviewing for The Brew Club.
Anyway, back to the Wild Blue Beer! Interesting thing this beer. It says on the label "Blueberry Lager", and then on the side label where one would find the UPC code, it reads "Flavored Ale". Now, I was under the impression that an Ale was an Ale, and a Lager was a Lager. Kind of like two separate families, and it has to do with how the beer ferments – Lagers ferment on top, Ales on bottom.  I'm not a beerologist, so maybe I'm just missing something, but I didn't know that an Ale could also be a Lager.  Anyone know?
So, after about 10 minutes out of the fridge, I opened the Wild Blue Beer and poured it (properly) into my official testing-glass.  I really let it glug into the glass, and it created the weirdest, pinkish-purple foam head you could imagine!  It was bizarre to me how much this beer did not look like beer at all! I waited for the foam to subside, and then I poured the rest of the blueberry beer into the glass.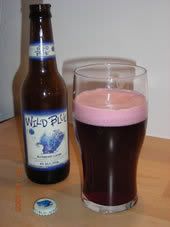 The Wild Blue Beer supposedly has all-natural ingredients, and the label warns there may be some blueberry sediment in the bottle.  Well, I didn't see any blueberry sediment, but the reddish-purple beer was in fact a little cloudy.  It looked to me, like some kind of grape juice, maybe a cran-grape color if you can imagine that. The smell was nothing like a beer, but rather it was much more like a wine smell. A little blueberry scent, but to me, it smelled like a homemade wine.
When I tasted this blueberry beer for the first time, I was also reminded of a homemade wine.  Maybe I'm nuts, but it just didn't taste like blueberry to me. It tasted like Vincenzo's wine from the cellar.   Speaking of Vincenzo's wine from the cellar, this brew has an 8% Alcohol content, which is somewhat higher than your typical beer, so watch out if you have a few of these!
Well, as I always do, I finished the entire beer so I could give the best review possible.  My verdict is that while a Blueberry flavored beer is cool and different, and Wild Blue certainly looks, tastes, and smells different than any other beer I've tried, I just couldn't get into it. It seemed a little over-the-top, and came too close to a kind of weird beer-wine hybrid that I just couldn't appreciate.  Personally, I think the Blueberry Beer from Blue Point does a better job.
I'm glad I tried it, but I think I'll pass in the future. Anyone else have a different experience with this?
Rating:
Interested in Home Brewing Kits?  Check out our page on the easiest home brewing kits – all you need to get started in a great new hobby, all in one box!