For opening the beer bottles, I've been using various cheesy bottle openers that I've had around the house, and I'll admit, they've worked. I've always felt somewhat unprofessional using the free plastic bottle openers and yearned for more from a bottle opener. My readers deserve it.
I came across another beer site called the National Association of Beer Connoisseurs, and I was checking out their site, and noticed they were running a little contest. The prize was (among other stuff) a key beer bottle opener from a company called "SUCK UK" who also make some other neat items like Smoking Mittens and Glow Bricks.
Anyway, the Key Bottle opener was exactly what I was looking for to help me open the bottles of beer in a more "professional" way for The Brew Club – so I signed up for their contest, and somehow I was a winner!
So, true to their word, the folks at NAOBC mailed me my winnings, and in less than a few days I was ready to crack open those beer bottles! Let's see how the Key Bottle opener holds up to the stresses of a real-world test, shall we?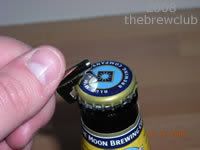 This is no ordinary bottle opener! It's nickel-plated for durability, and it's also sporting a skeleton-key look so it would look cooler on a keyring than the crappy plastic ones everyone else has. The key bottle opener also has a great little hook on it that grabs the beer cap and pulls it off with effortless efficiency. It is an instrument of quality and precision…a professional beer-drinker's tool!  It'll work for me too! 😉
Check out t
his next picture of the results of how the Key Bottle opener jacks off the cap like nobody's
business!
The cap on the left was opened by a typical, crappy bottle-opener and you can easily see the lack of damage to the beer cap. It's almost like the beer cap is sitting there, mocking the plastic opener (or me).
Now, the cap on the right is all bent up like it was made of tin or something weak. This new key bottle opener took the beer cap to school, and pretty much owned the beer cap.  One could also say the beer cap got played, or the cap got served. Not sure which is best, but that cap is DONE – thanks to my new Skeleton Key Bottle opener, compliments of the good and generous folks at NAOBC.com. Again, thanks!
And in belated honor of the "talk like Yoda day" (May 22) I'll leave you with this question…
Favorite opener or tool for your beer bottles, you do have, hmm?