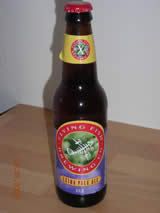 There aren't too many things I like about New Jersey.  Actually, I'm not sure there is anything I like about New Jersey! Thankfully, I just tried a bottle of the Flying Fish Brewing Company's Extra Pale Ale for The Brew Club which is made in Cherry Hill, NJ so maybe things are starting to look up for me!
This is the first time I've tried anything from the Flying Fish Brewing Company – but being a Jersey native (hold the laughter please) I've heard about them, and what I've heard had been good. Does my experience with their Extra Pale Ale stack up to what I've heard? Well, let's see!
Pouring the Flying Fish Extra Pale Ale into my glass produced a foamy white head that didn't take too long to die down which allowed me to finish pouring the bottle with the second pour.
As the foamy head went down, I looked closely at the beer and it was just slightly cloudy and as you can see in the pictures, and nicely amber in color. There was something of a sweet aroma to the Flying Fish (slightly fruity, maybe flowery?) as it was settling in the glass, and when I swirled the beer in the glass a bit, there was a little lacing that remained.
My first impression of the beer was good! There was nothing unsettling or weird about the beer, based on the smell, it tasted like one might expect – no surprises and it followed nicely. There was a little bit of that hoppy flavor, not too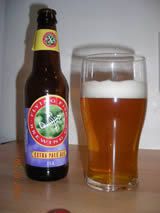 much though – this beer was pretty smooth and was easy to drink and like – no bite, sting, or burning on the tongue. I'd say it has a light mouthfeel, and good aftertaste. Nothing bitter about it at all!
For what its worth, the Flying Fish Extra Pale Ale, I think, could be easily enjoyed as a "summer" beer even though it is not marketed as such. I could see enjoying this beer at a BBQ or just hanging around outdoors when the weather is warm. It has that kind of vibe to it. An undercover Summer Beer?
Overall, I think that the Flying Fish Extra Pale Ale is a good beer, and would have it again. I also look forward to trying some of their other stuff in the future, and I would also recommend that you try it out if you happen to see it someplace.
On the other hand, I'm not sure there is anything really special about this beer either.  Its kind of ordinary in its overall goodness – like a Toyota Camry.
Rating: