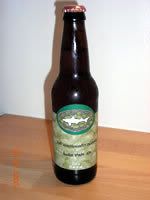 I'll start off by saying that I've never had an IPA styled beer before, and trying the Dogfish Head 60-Minute India Pale Ale would be my first sampling of this type of beer for The Brew Club.
Opening the beer and pouring it into my testing glass, the Dogfish Head 60 Minute IPA created a pretty big white foamy head that took quite some time to go down! The beer was a very light amber color, very clear throughout, and the lacing that was produced by the beer on the glass was considerable.
Even before I tasted the 60 Minute IPA, I could detect that this beer was going to be quite different than any other I had tried before. There was a very strong scent, almost earthy, maybe something like cedar or pine, I'm not sure really what it was, but it was strong! Is this a characteristic of this type of beer, or is it unique to the Dogfish Head variety? Only time will tell (or commenters, hopefully!)
The first taste of this beer was completely different than what I had expected for some reason. The Dogfish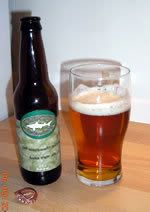 Head 60 Minute IPA is what I would call a bitter brew! There was no burn to the beer, it was smooth in that sense, but wow is it bitter! This IPA also had a very long-lasting bitter aftertaste that I really did not enjoy too much.
I would say that the Dogfish Head 60 Minute IPA is something of an acquired taste, and something of a curiosity that does stand out as different than most beers. However, In my opinion, the Dogfish Head 60 Minute IPA is not something that the casual beer-drinker might enjoy that much!
I would be willing to try it, or other India Pale Ale varieties again in the future to see if the style grows on me, but for now I'll pass on this beer. I know a lot of people really enjoy this beer, but it just didn't push any buttons for me personally and I didn't find it to be that enjoyable to drink.
Have you tried it?  What do you think of the Dogfish Head 60 Minute IPA?
Rating: