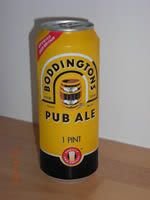 I haven't had the Boddington's Pub Ale in quite some time, but I remember liking the beer when I had it last. I was really looking forward to trying the Boddington's again and writing a little review about it, but either my taste has changed, or I remember it very differently for some reason.
The Boddington's Pub Ale of course, comes to America in the distinctive yellow and black can with the little "floaty-thing" inside. This mysterious "floaty-thing" is supposed to simulate the hand-drawn beer experience, where air is somehow mixed with the beer creating a creamy beer with a wonderful taste or something. Interestingly, the Boddington's can has instructions regarding the correct temperature to enjoy the brew, and it is apparently 41 degrees. I didn't take the beer's temperature, but I did wait a bit for the temperature to warm up – maybe 10 minutes or so from fridge to belly.
I cracked open my yellow and black can of Boddington's and the beer kind of exploded out of the can and spilled all over my official beer-testing table! WTF? I didn't shake it or anything, so I'm thinking it's somehow more carbonated in the can causing the mini-explosion?  It was quite an event!
Pouring the beer was, as expected, very cool! All these little bubbles separate out, and it is an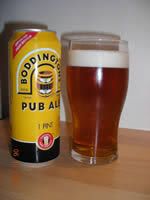 interesting show to see the huge cream-colored head rise from the amber-colored ale below. It takes some time to sort out the beer from the head, but once it does you are left with a classic-looking pint of beer!
The Boddington's Pub Ale has a mildly hoppy smell, nothing that really made me think "wow", but nothing offensive either.   Kind of regular smelling actually.
My first taste was underwhelming, and I was a little surprised because I remember really liking this beer in the past! The beer is smooth no doubt, but there is a mildly bitter aftertaste that wasn't so hot, and as I thought about it, maybe even a metallic taste too?   Could this can with the cool "floaty-thing" add this weird metallic flavor? So far, of all the beers The Brew Club has sampled, this is the first beer that was not from a glass bottle. Hmmmm.
If possible, I'd really like to try the Boddington's Pub Ale from tap someday to see if my memory has grown dim, (very, very possible), or the Pub Ale in the can actually tastes very different from the stuff from the tap.  Anybody have any thoughts on this?
The Boddington's Ale is definitely a nice, smooth English Ale, nothing really bad about it, but I was a little disappointed that what I had to drink did not live up to my expectations, or my memory of what was a really good beer. It had a bitter, and slightly metallic aftertaste that I did not expect really or care for. Definitely underwhelmed.
What do you think of Boddington's Pub Ale?  Is ti better on tap, or is it just a metallic-tasting beer?
Rating: