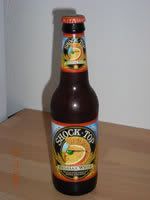 Shock Top Belgian White is another offering from Anheuser-Busch, and it was part of The Brew Club.com "Summer Beer" exchange, although I'm not sure that the Shock Top Belgian White is really a seasonal brew.
Apparently, it won some awards in 2006 and 2007 in the Belgian White Category under the name "Spring Heat". Maybe it was intended as a spring brew? Well, enough of that…
According to the label, Shock-Top Belgian White has …"orange, lemon & lime peels and coriander", is unfiltered, and requires a special pouring procedure that is more typical of how most people pour beer anyway.
They instruct you to pour the beer down the side of the glass, and once there is a little beer left in the bottle you are supposed to lay it on its side and roll it to and fro to get all the settled spices, and then empty the bottle into the glass. I did this just to make sure I wasn't missing anything!
True to their word, the beer was cloudy, and it stayed that way throughout. It didn't create much of a head, probably because it was poured in such a way as to minimize it. There was only a little lacing on the glass, and there seemed to be a lot of carbonation going on as well. The Shock Top beer was orange in color, and the only smell I could specifically pick up on was in fact, orange.
Even though the Shock Top Belgian White isn't marketed as a "Summer Beer", it had a kind of orange-fruity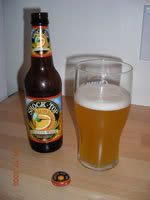 taste and light feel that could make it a good beer for the beach or BBQ. The main flavor I picked up on was the orange, I couldn't really detect any lemon or lime, and there was an orange aftertaste as well that wasn't bad.
The beer generally was not overly "beery" or hoppy, and was just the slightest bit bitter. I found that as I went through the beer I was liking it less and less. The orange taste started to seem a little synthetic somehow, and beside that, I found the beer to grow more and more bland. Weird, but that's what I thought!
Overall, the Shock Top Belgian White from Anheuser-Busch wasn't bad, but it didn't knock my socks off either. I wouldn't buy it again for myself, but it isn't too bad to try either.
A tasty alternative that is very similar in style to Shock Top is the Sunset Wheat by Leinenkugel Brewing Company.  It's also big on the orange and spice flavorings, but I think they do it a little better.
Rating:
Its a little strange, but I noticed that this is the 4th beer from Anheuser-Busch that The Brew Club.com has reviewed! It is apparent that A-B is really trying to get some different stuff out there, under the radar so-to-speak.
As a rule, we don't really care what beer Brew Club members bring in to exchange, but some people have commented about giving too much attention
to the big-guys. I can understand that, but we didn't start The Brew Club as a craft-beer site. It was just a way to try different beers without having to commit to buying an entire six-pack. It is what it is folks! Whatever The Brew Club members bring to work, I will drink and write about!
As it happened, we've tried four A-B brews which include the Shock Top above, Wild Blue, Bud Light Lime, and apparently Landshark as well. We've also tried two beers from the Coors people, Rising Moon and Honey Moon from Blue Moon Brewing.