Sierra Nevada Summerfest 2008 is the second "Summer Beer" that I'll be reviewing here on TheBrewClub. The first review was the Blue Moon Honey Moon, and there are four more Summer Beer reviews to follow in the future!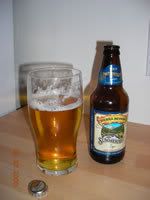 The Sierra Nevada Summerfest is a Lager-style beer that is a beautifully clear golden color, and has something of a nice sweet smell to it in the glass. It creates a substantial whitish head that eventually dies down to almost nothing, but there is a good deal of lacing left on the glass.
The Sierra Nevada Summerfest was smooth drinking, and it had a good feel to it – even a little slick maybe. There was a bit of a bitter aftertaste, and it left a kind of "dry" feel in my mouth after awhile. I'm not sure what that's about, but it didn't bother me in the least because I kept drinking it until it was finished!
I've mentioned in other posts that Lagers are not my favorite type of beers, so its a bit hard for me to get overly excited about any of them. The Sierra Nevada Summerfest is a good Lager in comparison, and it is certainly more complex and satisfying than other typical lagers that people might choose for the summer season.
So, if you are a Lager fan and are looking for something to try this summer instead of Corona or Landshark, give the Sierra Nevada a try. I don't think it will surprise you, but I doubt you'll be disappointed either!
Rating: