Troegs Sunshine Pils is the latest in our Summer Beer review series. To me it tastes too similar to everything else I've tried recently to give it a really distinguishing review, but I think it would do the trick if you wanted something cold and refreshing after mowing the lawn or something!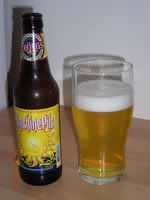 This beer is didn't create much of a head when poured, and as a matter of fact I was able to pour it into my testing glass in one pour rather than the typical two or three pours. The small head didn't last very long, but there was some pretty heavy lacing left on the glass by this Troegs brew.
It's a very very pale yellow, perfectly clear and as I mentioned it seemed to have low carbonation. In the glass, the Sunshine Pils is mildly sweet smelling, but the hops are definitely more noticeable as compared to say the Sierra Nevada Summerfest I tried last time which had more or a sweeter aroma.
From a taste standpoint, the Sunshine Pils has a very mild bite, is slightly bitter, hoppy, and leaves a typical kind of hoppy aftertaste in the mouth – but it isn't bad. It's crisp, but not heavy in taste or feel, and would be something enjoyable at a BBQ.
This is the second Pilsner-style beer I've reviewed here at The Brew Club. The other was Victoy's Prima Pils (also from Pennsylvania) which I thought was a little bit better than the Sunshine Pils.
Personally, I'm still trying to get a hang of this style beer, and I'm hoping that it grows on me as I try other brands. I would not discourage you from trying this Summer brew from Troegs, as I know that a lot of people think it is an excellent beer – it's just not my thing. In the meantime, if you're keeping score, I still think that the Honey Moon from Blue Moon (Coors) is the Summer beer to beat so far!
What do you think of Troegs Sunshine Pils?
Rating: