Yet another personal first as a result of The Brew Club! Tsingtao is my very first beer from China! If you've read any of the other posts on this site, you'll already know that Lagers generally do not get me overly excited. Even lagers that people are nuts about, usually don't move me in a soulful, metaphysical type of way that some Ales do. Its a personal thing I guess, and I try to give each beer I sample a fair shake.
As a result, I didn't have great expectations about this Tsingtao Lager beer from China, but I was soon to be pleasantly surprised! As a matter of fact, I believe that this Tsingtao stuff is the best Lager I've tried so far!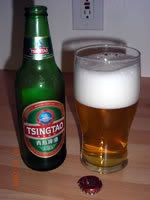 The Chinese beer looks like a typical lager in the glass – very pale yellow, typical white head that quickly diminishes into almost nothing, hardly any lacing and nothing special in the scent department either.
Where I was surprised was how good this beer tasted, which, of course, is what really matters! It was mildly hoppy, had a very light mouthfeel, and didn't leave much of an aftertaste at all. This beer was crisp, but did not have any bite or burn, and in fact I found it to be very refreshing!
Overall, the Tsingtao lager from China in the green bottle is among the few lagers that I've tried on the Brew Club.com that I would actually go out and buy again. It was an overall enjoyable experience and would recommend that you give it a try if you are looking for something other than the "usual". You won't be surprised by the beer – it's not a WOW kind of good, but I think you will be surprised at how good this beer is in a "wow?" subtle kind of way.
Rating: