Magic Hat Hocus Pocus Summer Ale almost topped the Blue Moon "Honey Moon" as my favorite (so far) summer beer!  Check out The Brew Club's latest beer review, and let us know what you think!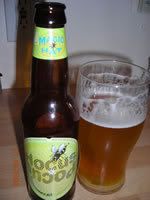 Like the Honey Moon mentioned above, Magic Hat Hocus Pocus is an ale which I prefer over lagers anyway. Its a personal thing, I know, but for some reason I just like Ales better.
Magic Hat has a nice scent, not hoppy at all, but you can pick up the wheat and just a little fruity or citrus in there too. Although the head seems to go down rather quickly, there is very heavy lacing on the glass which you can probably see in the picture. It's a fairly light straw-colored beer that was also very clear and had mild carbonation.
Magic Hat's summer brew is light and crisp, and personally I found it to be very refreshing. It isn't an overly complicated flavor, kind of thin feeling in the mouth and left a bit of a dry feel afterward which wasn't bad, but I could have done without.
Overall, I really like this beer, and would try it again, although it just lacks that extra something that would put it at the top of my summer beer list! Your mileage, however, may vary!  What do you think of Hocus Pocus?  Do you have a favorite Summer beer?
Rating: