The Summer Ale from Shipyard Brewing Company in Portland Maine is next in our series of Summer Beer Reviews here on The Brew Club.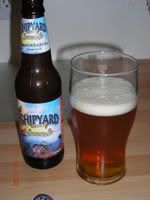 The shipyard Summer Ale is a beautiful and perfectly clear amber color, that created a creamy colored head when poured in the glass.  If I were to rate this beer on color alone, I would give it 5 stars –  It was just beautiful! It wasn't that bubbly and the head went down pretty quickly, although it did leave some decent lacing on the glass when it was swirled around.
The smell was sweet actually, and I looked forward to tasting it on this hot August day to see if it did the trick as a Summer brew!  So far, the Shipyard Summer Ale looked good and smelled good – but how did it taste?
As they say, looks, and in this case, smells, can be deceiving!  It was a mildly bitter tasting, maybe more than I would have expected or preferred, and it left a bitter aftertaste that lasted for quite some time and it also left a weird, dry feeling on the tongue.  Eh.  The beer itself wasn't heavy feeling, but I wouldn't say it was light, crisp, or refreshing either.  For some reason, it reminded me of an "IPA light" kind of beer if such a thing existed.
Generally speaking, I like Ales, but this Summer Ale from Shipyard didn't really "float my boat", (kind of sank it, actually) and I wouldn't go out of my way to have it again.  To me, it looks and smells great, but otherwise not that great.  I just didn't enjoy it that much.
Rating: