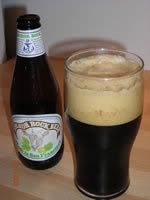 One of the Beers exchanged recently in The Brew Club was Anchor Bock Beer from Anchor Brewing Company in San Fransisco.  I found the bottle, and especially the label a little unusual, so before I drank this beer I did a little sleuthing.
According to the label, the term "Bock" has come to mean different things regarding beer, but for the most part the term "Bock" refers to a beer that is "stronger and darker" than a brewer's "regular" brews.  Back in the day, Bock beers were typically brewed for special holidays or seasons, and were apparently quite popular with German Monks during times of fasting.  Talk about liquid lunches!
Anyway, I also was wondering why the label of Anchor Bock Beer has a goat on it.  Well, supposedly "Bock" is a corruption of the German word "Buck" which may mean goat.  So, the goat on the label makes some sense now even if the German word for goat is "Geiss".  Hmmm.  Any Germans out there want to clarify this???
Well, enough of the background for this unusual beer.  Some things just peak my curiosity, but I'm sure you are more interested in the beer itself!
Simple answer?
I like it.
A LOT!
This is a great beer.  I'm actually in the process of drinking it while writing this beer review, so its hard to start with the looks and smells while I'm seriously enjoying the taste at this very moment!  To begin, its DARK.  Not black, but a very, very dark brownish rust color.  Very, very clear – but dark.  When pouring, it creates a huge, thick, caramel-colored foamy head that seems to take forever to go down!  It reminded me a little of a root-beer float kind of foam.  Thick and bubbly!
It ultimately took three pours to get the whole bottle of Anchor Bock into my standard testing glass (which is a cheap Guinness glass BTW – shhhhh!)
Regarding the aroma, there was a stronger smell of roasted malt than hops – a very rich smell.  There's something else to it I can't put my finger on (or nose in this case), maybe its just malt but it's nice.
Now the good part.  This Anchor Bock is divine!  Richly flavored and soothing.  If it were food, it would be a comfort food!   Even though the Anchor web site says the beer is brewed to celebrate Spring, to me at least, Anchor Bock is a Winter kind of beer.  It isn't "refreshing" or light, in "that" sense as in "gee, I think I'll have an Anchor Bock now that I've finished mowing the lawn" but rather complex and warm.  Maybe in San Fransisco the seasons are not as pronounced as they are here in the Northeast, but I'm not seeing it as a Spring beer.  Whatever.  Still, its incredibly satisfying and I can see why the Monks had this over real food.
It isn't bitter, and it isn't "hoppy".  It leaves something of a sweet, almost toasty aftertaste that is just great and very enjoyable.  It's got a medium kind of mouthfeel that leaves the mouth a touch sticky, but nothing over the top.  Anchor Bock is just an all around very good beer.  Go try it!
Rating: