One of the main problems I've come across since I started doing beer reviews for The Brew Club, is that I can't really just sit down and chug a beer.  I always feel compelled to do "the" beer pour, wait the 10 minutes or so for the beer to lose that cold sting of the fridge, and try to turn my eyes, nose and tastebuds into beer-reviewing machines!
One one hand, its cool to sit and think about a beer in a more critical way, but on the other hand it takes a little of the spontaneity out of just enjoying a beer for the sake of it!
So tonight, I decided to try a "quicky" beer review.
Today's quicky beer review.  San Miguel Dark Lager from the  Philippines!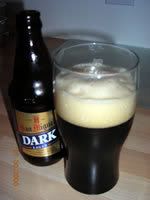 Q.  How does San Miguel Dark Lager look?
This beer is a very dark brown color and slightly cloudy.  When poured into the glass, it creates an enormous toasty-colored head that does fizzle out rather quickly.  It ends up with no foam head and no lacing on the glass.
Q.  How does this Philippino Beer smell?
The San Miguel Dark smells more of  roasted malt than of hops, which is different for a lager (at least in my opinion)
Q.  OK, great.  How does it taste?
Not bad!  It's got a medium kind of mouthfeel, not too heavy, and not too light – and you can really get a taste of the malt flavors, and there's also little bit of the hops that come through.  It's smooth going down, and does not have any kind of bite, and only the slightest of a bitter aftertaste.
Q. Does it remind you of anything?
This beer reminds me of the Negra Modelo in color, smell,  and somewhat in the taste.  The bottle is eerily similar also, but that could just be a conspiracy or something.  The San Miguel seems less carbonated though from what I remember.
Q. Would you buy San Miguel Dark Lager again, or recommend it to a friend?
If I had friends, yes!  It is not a bad beer at all and I would pick it up again for myself.  San Miguel Dark is certainly not what one might expect from a Lager in the look, smell, or taste categories.  I've read reviews on San Miguel's "regular" lager (the golden colored one) and that seems not-so-good, but this Dark Lager is alright in my book.
Q.  So what's the verdict?
San Miguel is an enjoyable beer that I think anyone might like.  While it doesn't stand out as fabulous, it doesn't do anything wrong either.  A perfect brew for turning off the brain and simply enjoying!
Rating: