This is The Brew Club's second report by "Bob the Brit" from the 2008 Great British Beer Festival. Enjoy!
At lunchtime in London on Friday August 8th, all eyes were focused on the opening ceremony of the Beijing Olympics. All eyes that is, except the several thousand people who were attending CAMRA's Great British Beer Festival at Earls Court, London !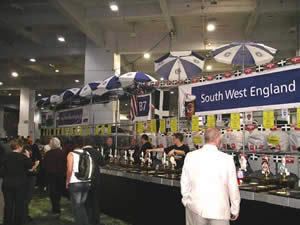 As previously reported, this is the 31st GBBF and the third to be held at London's Earl's Court exhibition centre, just to the west of Central London. Earl's Court is a massive barn of a place, built in the 1930's covering nearly three acres; as such there's plenty of room for what is, for the period of the GBBF, the world's largest bar. Plenty of room for over four hundred beers and a great opportunity to stray from ones normal tipple and try something really different.
The GBBF is divided into a number of regional bars, so if your taste runs to Yorkshire Bitters, or Scottish Ales, then you know where to head. In addition a number of breweries run their own stands. There's also 'Bieres Sans Frontieres' which showcases beers and lagers from around the world and Bar Nouveau which highlights newer breweries.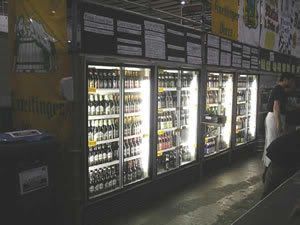 I met up with my son and his mate Paul; my son Gaz is in the RAF, and Paul left the RAF last years for a civilian aircraft maintenance role. Over the afternoon we sampled a number of fascinating beers, only halves you understand, and strictly for research purposes. These are the ones I remember making notes on:
'Landlord' (4.3%) Timothy Taylor – this is a classic british ale, and a personal yardstick. It's a full bodied dark amber ale with a slightly nutty taste that distinguishes it from other bitters. I'd give this 5 stars every time and it's a great beer to kick things off with, setting a high yardstick.
"Chocolate Cherry Mild" (3.8%) by Dunham Massey – a new micro brewery in Manchester. this won best beer at this summer's Chelmsford Beer Festival. A classic, dark mild, The cherry and chocolate flavours came through nicely. I'd give this 4 stars, but if they were to brew the same flavour into a full bodied porter, then this would be a world beater.
"Clotworthy Dobbin" (5%) by Northern Ireland's Whitewater brewery; I have no idea where the name came from – 'Dobbin' is a term often used to describe a cart-horse. This was a good, mid bodied dark ale, coming in at 3.5 – 4 stars. The same brewery's "Solstice Ale" (4%) had a rich ruby colour, and was a classic bitter, again 3.5 – 4 stars.
"Eastern Spice" (4.5%) from Okells brewery on the Isle of Man was a bright, very pale bitter, which boasted flavours of Ginger, Coriander and Chilli. And it didn't disappoint, the initial bitter taste brought with it the merest hint of ginger, followed by a strong coriander flavour, reminiscent of a classic wheat beer. I was wondering where the chilli had gone, but after a few minutes I noticed a slight tingle on my lips. This would be fantastic to go with Thai food, or maybe a midsummer barbecue. 4.5 stars.
Shepherd Neame from Faversham in Kent chose the GBBF to launch their new 'Canterbury Jack' (3.5%) ale, a pale hoppy 'session' beer. They describe it as having citrus notes and the aroma of grapefruit, I found it insubstantial and unsatisfying. 2 stars.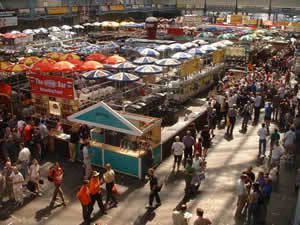 I then decided to experiment with some darker beers…
"Comrade Bill Bartram's Egalitarian Anti-Imperialistic Soviet Stout" (6.9%) – or just "Soviet" on the pump-clip from Bartram's brewery in Suffolk – was, despite it's socialistic protestations, a classic 'Imperial' stout. Full bodied, midnight dark and with a rich bitter chocolate flavour. At 6.9% this was deceptively dangerous, it didn't taste as strong as it no doubt was, and one could easily find oneself far worse for wear than expected. 5 stars – no question.
"Bad Medicine" (6.3%) – by the Ulverston brewery in Cumbria was my discovery of the day, another rich, fully bodied porter, with a difference… this one tasted like it had a couple of shots of good espresso coffee added. Another 5 stars.
By now my palate was getting seriously jaded, and despite the Kangaroo burger I was starting to feel the effects, so I moved back to more mainstream beers, and concluded an enjoyable afternoon with a pint of "Bombardier" (5.2%) by Charles Wells. It's  being marketed as 'the beer of England' and it's another classic bitter, with a rich, dark copper colour and a fine hoppy taste. I finished the session as I'd started it, with a classic.
All in all a great session that didn't disappoint, I'll be back next year!
Bob the Brit
Have you read part one of "Bob the Brit's" review from the 2008 Great British Beer Festival?  You should!