The end of the Summer season has brought The Brew Club to exchange "Fruit-Flavored" beers and one of the beers selected for review was Leinenkugel's Berry Weiss.  Recently, we reviewed Leinenkugel's Sunset Wheat, and thought it was a pretty good wheat beer, so we wondered how this berry flavored beer would do in comparison?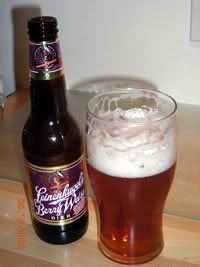 The Berry Weiss, according to the label, is "…brewed with honey and flavored with Blackberry juice and other natural Berry flavors".  Sounds, good, right?
Let me go over some of the things I liked about this beer.  It poured out smoothly into my glass and created a huge white head with the slightest of a pink color.  The foamy head took some time to go down, and it really left some good lacing on my glass.  It wasn't carbonated – beside the very foamy head, there was no noticeable bubbles percolating up in the glass.
The Berry Weiss also had a noticeable berry-ish smell (makes sense, right?) that really dominated the aroma department.  It wasn't over-the-top, but it was the thing I noticed most about it.  I didn't really notice any scent of honey.
So, what about the taste?  Very much looking forward to trying this beer, I was actually a little disappointed in it considering how much I liked the Sunset Wheat that was reviewed earlier.  This is NOT a bad beer, it's just a little too sweet for my personal taste.  Berry Weiss is smooth, not bitter or anything, but a little too sweet for me.  The mouthfeel is OK, more on the light side and a bit slick feeling – there's no sting or bite of hops, but it leaves a bit of a sticky sweet aftertaste that I really didn't like.  A little bit of honey comes through in the aftertaste, but it wasn't really that noticeable.
So, if I knew someone who was into flavored beers, someone who wanted to try something a little less "beery" tasting, and maybe a little more "fruity" tasting, I would tell them to try this beer.  It's certainly a quality brew – but unfortunately the Leinenkugel's Berry Weiss is just not up my alley.   A little too sweet for me.
I shrug my shoulders at it. Sorry.  Do you have a favorite berry-flavored beer?
Rating: