We've been on a bit of a Wheat beer kick as of late here at The Brew Club!  We've had several wheat beers that have covered the spectrum of ratings from GREAT to eh.  This review is of the famous Hoegaarden Belgian White Beer.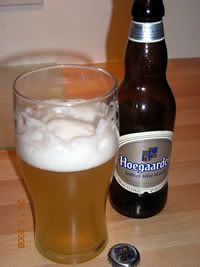 This beer is unfiltered, and one can see that the very moment it is poured into a glass.  It is a  light straw color, and the head is large and foamy creating a good amount of lacing on the glass.  It is not overly carbonated.    The beer is translucent – you can not see through it, but what you can see is an interesting little show of cloudy swirls of whatever stuff is in the beer!  It's an interesting effect actually – almost atmospheric!  If you hold the glass up to the light, you will see what I'm talking about quite easily.
The smell of this beer is different than the other wheat beers that also claim the "orange and spices" on the ingredient list.  One of the spices in the Hoegaarden Beer is coriander, and although the label suggests only a "hint" of this spice in the beer, my feeling is that it dominates the smell (and taste) overall.  The Hoegaarden beer has some citrus overtones, but the "spice" is definitely stronger than the "orange" in this equation.
After trying to analyze the smell, tasting it was less of a surprise than I might have guessed.  As the coriander seemed to dominate the smell of the Hoegaarden Witbier, so did it in the taste department as well.  The beer has a medium kind of body, not that heavy, and it is rather wholesome and warm tasting, probably as a result of the spices in the mix.  This might even be a good wheat beer for those colder times of the year, as it leaves a warm afterglow in your mouth.
Generally speaking, I thought this was a good beer, but the spices are just a litttle bit too much for my taste.  I think that the Leinenkugel Sunset Wheat is still the best I've tried in this category, although if you are into this style of beer the Hoegaarden Witbier will not disappoint.
Rating: