The Brew Club is very happy to present a guest beer review from our Australian friend "Coops"!  We think its great that people from around the world are willing to share their beer views with us here at The Brew Club!  Hopefully, we'll be reading more from Coops in the future!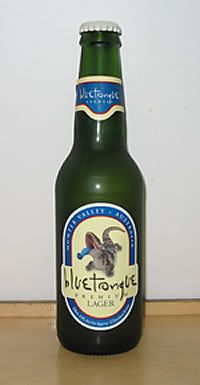 I haven't followed The Brew Club's criterion for tasting and I'm not trained in the art so my opinion should be considered with that in mind.
I have chosen a Blue Tongue Brewery's Premium Lager made in the Hunter Valley, Australia to review. It is a 4.9% full strength beer as preferred by the Australian market.
Australian brewers have researched this alcohol content very carefully. The measurement allows the average man enough time to get nicely inebriated and tell full sized lies before having to take a toilet break to make room for more. Drinking time to toilet break ratio is an important criterion for beer selection over here.
Both the wife and I like this lager for its easy drinking characteristics. It is a very clear, lightly carbonated beer, with a clean and minimal nose. Crisp though not biting, the hops linger as a pleasant aftertaste that doesn't interfere with the next mouthful.
As a mild, inoffensive beer it should not be discounted as boring or bland. It's a great all-rounder that is acceptable for all occasions.
We drink it on the barest edge of freezing, even in the middle of winter. That's another reason we find the use of stubbie coolers essential. The height of good manners in Australia is to automatically throw your guest a cooler if he's having a beer.
Coops