By Bob the Brit ~
As the title and my chosen moniker (John Hancock to you Americans) would suggest, I'm a Brit, and proud of it!
What I plan to provide in coming articles for The Brew Club, is a taste of some of the beers available over here in the UK, both in bottles and draught. Hopefully some of the bottled stuff will make it to your local store or bar, but I figure that any draught reviews might be useful to any of you who might decide to visit this sceptered isle.

And I guess we should start with my local – 'The Curlew'.  This is a neighbourhood pub in a small town in Essex, about thirty miles east of London. It's tied to the Kentish brewers Shepherd Neame who have been brewing in the town of Faversham since 1698, making them England's oldest established independent brewers. Kent was traditionally the heart of Britain's hop industry, and consequently Shepherd Neame are known for making 'hoppy' ales.

The main drink here in the UK is Bitter, although Lagers and Ciders are catching up fast. The two bitters sold in the Curlew are 'Masterbrew', a session beer coming in at 3.7% ABV and 'Spitfire'  a bit stronger at 4.7%. Spitfire was originally produced in 1990 to commemorate the 50th anniversary of the Battle Of Britain (which took place in the skies over Kent), and is famous / notorious for some irreverent advertising campaigns poking fun at the losers in that particular conflict . Both beers are available in 500ml bottles, which is close to an American pint.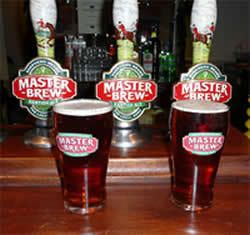 So… to Masterbrew… Shepherd Neame's best selling bitter. This, as I mentioned, is what's referred to as a 'session' beer – if you're meeting up with some friends to watch a game, or set the world to rights then you don't necessarily want to be downing several pints of the stronger stuff!
The first thing that strikes you when you get a pint of Masterbrew poured for you is the lack of head, the amount of head depends largely on the 'sparkler' head on the beer tap, but for cask ales this tends to be minimal, there is enough head, but not the three quarters of an inch of creamy foam one sees in the TV ads. And given that you're paying for that three quarters of an inch (of the widest part of the glass, that could be 10-15% of your pint) give me beer over bubbles any day!  The second thing you notice is the colour, a rich, slightly coppery amber colour. In contrast to the paler colours of lagers and ciders.

But enough observation, let's get drinking! As you lift the glass you're stuck by the tangy aroma of kentish hops. Kent is traditionally the home of British hops and in the late 19th and early 20th Centuries families would travel from London to Kent for the six week school summer holidays to pick hops. My Grandmother used to tell me of summers spent hop-picking when she was a child, so that aroma evokes all sorts of memories.

And the flavour? Well as you would expect, Masterbrew is a classic British bitter. There's a slight bite of the hops, and then a rich mellow flavour floods in. Not too heavy in terms of body, as befits a 'session' beer, and then the merest hint of caramel as the taste subsides. Most satisfying.

Having observed the lack of a foamy head, it's worth noting that it lasts well down the pint, leaving a fine tracing of what Michael Jackson used to describe as 'Brussels Lace' down the glass.  And as my companion on this particular evening observed, "What's better than a pint of Masterbrew?" Answer – "Two pints!".

Overall I'd give Masterbrew 4 stars, it does what it sets out to do. It's a refreshing, classic British bitter.

Rating: