Last weekend I drove over to Oxfordshire to visit my son and his wife, it's about a hundred miles and the other side of London to me.
On the Saturday evening we visited 'The Pack Horse' a gastro pub in the village of Mapledurham. That probably won't mean much to anyone, but it's where Kenneth Grahame wrote 'The Wind in the Willows' and Mapledurham House was the inspiration for 'Toad Hall'.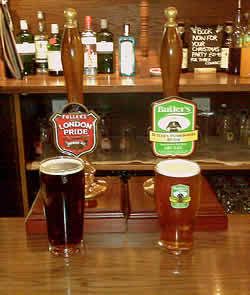 I immediately noticed an unusual badge on one of the beer pumps, 'Butlers Oxford Bitter'. I asked the bar man about the brew and learned that it is brewed in a microbrewery on the Mapledurham estate. The brewery is a husband and wife operation, founded back in 2003 that draws water from a local artesian well. The water is claimed to add to the brew's flavour.
The beer itself is another great British Bitter; it doesn't have the rich hoppy nose of a kentish ale like Shepherd Neame's Masterbrew, but has a rich, full flavour that is less assertive than many bitters, edging towards the mellow. And a fine tracing of 'Brussels Lace' through the whole pint to a reluctantly empty glass. And at 3.6% ABV it makes a fine 'session' beer.
Once upon a time every village in Britain and Europe had its own brewer (usually a woman – the 'Alewife'), and those brews were enjoyed by the locals. In the UK at the moment we're in the sad situation where five 'local' pubs are closing every day, and we have a brewing industry that is dominated by three mega brewers (InBev (who also took over Anheuser-Busch), Carslberg and Heineken). The really scary fact is that if the number four brewer was to buy every other brewery, micro and brewpub, they'd still be number four!
A beer like Butlers is refreshing not only as a drink, but as I was drinking it within a mile of where it was brewed, surely that's what brewing used to be about?
I'd give it three and a half stars for the beer, four stars for being what brewing should be.
Rating: