It's been so long since I've been able to have a beer and write a review!  I've had some type of incredible allergies this late summer, and I've been on medication for a month I think!  I've really been looking forward to trying and reviewing some beers for The Brew Club!
Our latest beer exchange was "Oktoberfest/Pumpkin Beers" and the Club made some great beer selections which I hope to review in the near future – at least before Fall is over!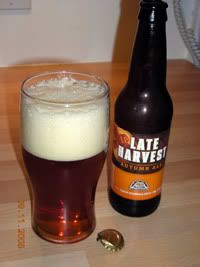 The first beer I got to try from The Brew Club Oktoberfest beer exchange was Late Harvest Autumn Ale by Red Hook brewery.  My sample came from the New Hampshire brewery, an not their place on the West Coast.
The beer comes in a brown bottle and the label is in typical Fall/Harvest colors of brown and orange – certainly looks like a Fall seasonal beer!  Pouring the beer into my testing glass showed that the inside was much like the outside in look!  The beer was a medium amber color, and the head that formed was pretty big and was a creamy color.  It looked great in the glass!
Smelling the Late Harvest revealed a bit of a sweet, flowery smell, but nothing really stood out as an exceptional component here.
Like I mentioned above, its been awhile since I had a beer, and I was looking forward to trying this beer – the first of the Fall season for me!  I would say that the beer is very drinkable, and for the most part very enjoyable.  It was smooth, not too bubbly, and it had a roasty kind of flavor.  "Warm" if you will.  There was a bit of a bitter aftertaste, not bad, and the beer didn't feel too heavy in the mouth, but for me it left a bit of a stickiness behind.
Overall, I liked this beer from Red Hook, and I would suggest that you give it a try if you happen to see it this Fall.  It isn't the best of the Seasonal beers – nothing SUPER, or outstanding about it, but it solidly does what you would expect, and tastes like an Autumn Ale should.
Rating:
Have you tried Red Hook's Autumn Ale?  What did you think?