It was almost 80 degrees here today in NJ, so the "reviewing atmosphere" is not what I would have hoped for to review a Fall seasonal beer for The Brew Club – but I'll do my best for our readers, even though it feels more like Summer than Fall outside!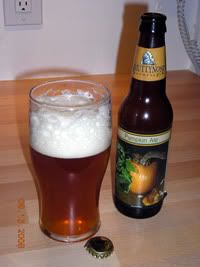 As it happens, the Smuttynose Pumpkin Ale I'm reviewing from The Brew Club's Oktoberfest / Fall Seasonal Beer exchange is also brewed in New Hampshire like the first beer I tried –  Red Hook's Autumn Ale.  It just happened to turn out that way, its not a conspiracy I swear!
To get things rolling, the label shows a nice picture of a typical bright-orange pumpkin, still clinging to its vine waiting to be picked from the pumpkin patch.  Next to the pumpkin on the vine is a chunk of pumpkin remains, with seeds scattered about on the ground.  For some reason, this got me thinking of the fate of that pumpkin.  Was it just smashed for fun, or was its innards used in this neat Pumpkin ale?  I know, I know.  Booooorrrinng.
If I had to tell you what color this Pumpkin Ale was, would you be surprised?  Well, it wasn't orange if that's what you were thinking!  It was an amber color, and it created an creamy colored head that laced the glass quite nicely.  To me, Smuttynose Pumpkin Ale was just a bit cloudy, and if you looked closely at the beer up to the light you could see the little pieces of spices floating about in the beer. Neat!
In the taste, there was an apparent spice flavor, and while it didn't taste like liquid pumpkin pie, there were some subtle pumpkin overtones along with the other spices that gave this Pumpkin Ale a very warm and satisfying flavor.  The Smuttynose brew wasn't sharp or bitter, was very smooth drinking, and it leaves a little bit of that spicy aftertaste in your mouth – just a little bit.
Really, I think the best way I can describe the look, taste, and to a lesser degree the smell of this Smuttynose Pumpkin Ale would be its a less intense incarnation of the Hoegaarden Witbeir.  It looks looks similar, maybe a little darker, but cloudy, the smell is similar but less intense as is the taste, with just a touch of pumpkin added.
I did like this beer more than I liked Red Hook's Autumn Ale, and for the record I also liked it better than the Hoegaarten that I keep refering to.  Its something I would try again, and hopefully I'll be able to once it cools off a bit!
What's your opinion of Smuttynose Pumpkin Ale?  Go ahead and share your thoughts!
Rating: