We Brits are probably blessed with the largest selection of beers on any supermarket shelf than anywhere else. My local supermarket regularly stocks beers from around the UK, Europe and farther afield. However we have to be cautious of the dreaded 'brewed under licence' clause, where classic German and Japanese lagers are brewed in the UK to a recipe that approximates the original.
So, when I saw 'Cusquena' lager on the shelf, and the magic word 'Imported' on the l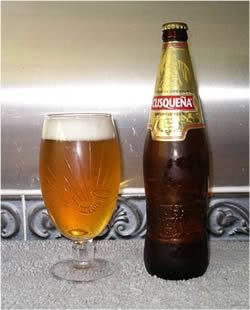 abel, I simply had to try it!
Cusquena Lager is brewed in Peru, brewed since 1912 in Cusco, just 40km from World Heritage site at Machu Picchu at an altitude of 12,000 feet altitude. The water used in the brew is glacial water from the high Andes. The beer is brewed to the Reinheitsgebot, as you might expect from a brewery founded (as so many others) by expat Germans.
Cusquena comes in a generous 640ml bottle, which is slightly over a British pint, the bottle is embossed with stone designs to represent Cusco and Machu Pcchu, and is brewed to a respectable 4.6% ABV, which seems to be the entry point for premium lagers these days.
So what's the beer actually like?
Well the first thing you notice as you pour is the rich golden colour, it really is the colour of summer
sunshine. The head is full and creamy and leaves a reasonable trace as the beer goes down. There isn't any noticeable aroma, no tart Saaz hops here, just a mellow warmth. And I guess 'mellow' is a good way to describe the taste, it feels good in the mouth, not too biting (as so many lagers are), slightly sweet and gently refreshing.
Imagine a summer picnic, one of those endless summers just before you left high school… THAT's what Cusco conjures up. And that's fine by me! The UK importers website has interesting background on the brew, and some fascinating looking recipes – I quite fancy the Cebiche Caliente de Camerones.
Oh, and for information, the glass I used for tasting is one of the new 'Artois' brewery 'chalice' glasses, allegedly designed to help keep the beer cooler for longer.
Overall rating 3 1/2 stars I think.
Rating: