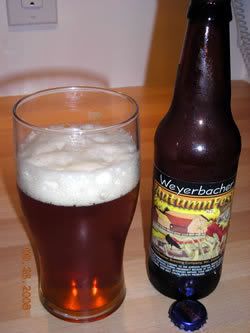 As part of our ongoing Oktoberfest beer reviews here at The Brew Club, we're buying and trying as many Oktoberfest/Autumn Seasonal Beers/Pumpkin Flavored Beers as possible!  There's really a lot out there to choose from, and it's really interesting to try some of the beers especially brewed for the Fall season!
Today, I get to try Autumn Fest Ale by Weyerbacher Brewing Company out of Easton, PA, which isn't really that far from where I am outside of New York City.  To me, THIS is buying locally! Apparently they have their own hop farm, which I think is pretty cool! I haven't had any thing from Weyerbacher before, so this is yet another personal first!
The Weyerbacher Autumn Fest Ale looks similar to many of the other brews I've tried recently, particularly the particularly the Smuttynose Pumpkin Ale. Very nice coppery-amber color, perfectly clear and if formed a foamy head that was almost beige in color.  The head went down pretty quickly, but there is a decent amount of lacing with this ABV 5.4% brew.  So far, so good!
The smell at first was a little sweet, mild, nothing really stood out to me as unusual or exceptional – but as I let my beer sit a little bit in the glass to warm up a touch, I started to notice more and more an aroma that reminded me strongly of honey!  To me, this honey smell became the dominant aroma, but I didn't pick it up at first!
Now that my interest in this Autumn Fest Ale is piqued – I give it a try!
At first, I'm looking out for this honey flavor, but it doesn't seem to translate for me from the smell to the taste. Maybe it isn't honey? What is it?  I don't really pick up any honey in the flavor.  Like many other Autumn Ales, this beer is smooth, but has a slightly higher hop presence on the palate, and there is a bit of a dry, bitter aftertaste which isn't bad  with this beer.  There's also that nice roasty malt flavor that gives these seasonal beers their special character.  Mmmmmm.  Character.
Overall, I liked the Autumn Ale from Weyerbacher and I would have it again if I happened to see it on tap someplace.  However, I think there are better offerings out there form the Fall season.  Good, but not great.
I think I'll call this one right down the middle!
Rating: