A trip into town means a bee-line to the liquor warehouse to bulk buy our favourite Aussie brew, Tooheys New – Draught Beer. Despite its favoured place in this household, (and its nationally recognised awards as a commendable mass-produced beer), it's too common to review here on The Brew Club.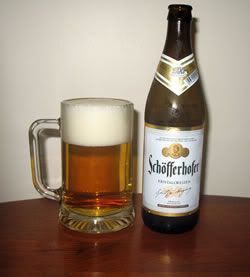 With a full trolley in hand, I peruse the brightly labeled confusion of beers in the 'Foreign' aisle for something Continental. I see a six pack of Schofferhofer Kristallweizen Premium Wheat Beer. The half litre bottles are unmistakably German, distracting me from continuing a search for a Lambic Beer. (Which I am still intensely curious about.)
I rush the Schofferhofer home. Spring has banished winter's temperate days and I feel the scorching day's heat sinking into my alcohol stocks. The Schofferhofer is made comfortable in the fridge to recover.
Upon opening its traditional non-twist top I am assailed with a good malty, almost sweet, smell. I drain a bottle, then a stein. (On different days.) The stein is a rare preference for beer consumption, but a far better experience in this case. Its golden colouring and thick head are attractive characteristics.
The alcohol content, (5%), is enough to slightly numb the senses with a full taste of malt and subtle bite of hops at the end. It bounds around the mouth, rich and powerful. The hops flavour is sharp and fleeting while the malt lingers. You know this is a true brewer's beer, not flavoured water.
I would resist drink more than one in a session. It's not a guzzler. It's a sipping beer. Perfect for sitting in the backyard, appreciating the car you've finished polishing, or the tree felled by blunt hacksaw in the absence of a chainsaw. A serving suggestion involves a chilled glass, a hot day, and an accompaniment of a plain ploughman's lunch.
Obviously Germans know their beer and they have continued their tradition of care and dedication in Schoffenhofer. Oversize bottles with full strength alcohol levels, advocating excess for those long months either side of OktoberFest!