We're in the middle of an Oktoberfestathon (I might trademark that word) here at The Brew Club, trying to sample and review as many Oktoberfest or Autumn seasonal beers as possible before they're off the shelves!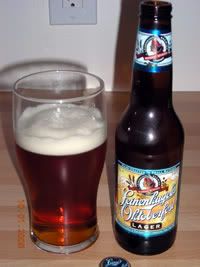 Today's beer is Leinenkugel's Oktoberfest Lager!  To date, we've reviewed two other beers from this Wisconsin brewery – the Sunset Wheat was in my opinion, a very good beer and it rated 4 stars, while their Berry Weiss was reviewed with much less enthusiasm and claimed only 2 stars.  I'm wondering how the Oktoberfest beer will compare?
Compared to the other Fall seasonal beers I've recently tried, this is the first Lager among them – the rest have been ales.  The Leinie's Oktoberfest pours into my testing glass creating a foamy, creamy-colored head.  This foam disappears in a reasonable amount of time, and the lacing that the beer leaves upon the glass is decent.  There's a good amount of carbonation that I notice even after about 10 minutes as I give the beer a little time in the glass.
The color is fabulous!  It's perfectly clear, and a beautiful shade of amber – If the Fall season could be liquefied, fermented, and put into a glass, I think this is what it might look like!
The smell is sweet, maybe a little nutty – but nothing really stands out as a special aromatic ingredient.
The taste?  Well, it certainly is not bad, but I was a little underwhelmed as it was kind of plain tasting to me.  To me, its not as rich or as complicated as some of the Oktoberfest ales I've had.  It has a little more of a hop flavor to it as might be expected with an Lager, but it isn't too bitter or overwhelming.  This Lager is crisp and there is a bit of a bitter aftertaste , but its OK.  The beer has a light kind of feel in the mouth and I think it would be pretty good with a burger!
Overall, the Leinenkugel's Oktoberfest is good for a Lager.  To me, it isn't as good as some of the seasonal ales, but what can I say – I'm not a huge Lager fan!  Would I get it again?  I don't think so, but if you are a Lager fan, or jus happen to not like Ales or darker beers,  then I would definitely suggest this beer to you to try.  I think you might like it.
Good beer, but overall it didn't ring any bells for me.
Rating: