Well it's finally here!  The Brew Club reviews the one of the "Big Six Oktoberfestbiers" as part of the "Oktoberfestathon" where we try to review as many Oktoberfest/Fall Seasonal/Pumpkin Ales as possible!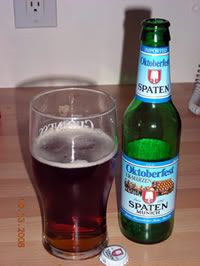 I've had the Spaten Oktoberfest beer before, and I remember liking it but I didn't have anything to really compare it to at the time.  Its a lager technically, and a lager really has to be something special for me to give it more than an average rating.
Unfortunately, the Spaten Oktoberfest seemed solidly average to me in every way.   It is a beautiful color as most of these beers are, kind of a dark golden color.  It had a nice aroma, nothing that stood out as outstanding but had some sweetness and some hoppiness, but nothing really special.  Average.
The head was bubbly at first, but it dissipated before I came back for the picture, which was only a couple of minutes!  There was no glass lacing to speak of, and it seems I got most fo the carbonation out with the pour.  No bubbles in here, very clear beer.  Mouthfeel was light, very thin and watery indeed with a little bit of a hop burn aftertaste.
Generally, I was unimpressed with this Spaten Oktoberfest beer.  If I were to do a blind taste-test, I would think this was some kind of plain-Jane beer (no offense to Jane).  It was OK, but really nothing special about it.  I thought it was bland really.  It isn't offensive, but it didn't meet my expectations based on what other people had said about it, and how I remember it the last time I tried it.  I wouldn't get it again considering all of the Oktoberfest seasonal alternatives.
Rating:
While you're here, why not check out Bob the Brit's review of Spaten Oktoberfest?