The next beer review… Grolsch Premium Weizen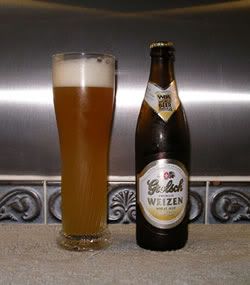 I'm not sure how well known Grolsch is in the United States; the brand first came to prominence here in the UK in the late eighties, and then in part because of its distinctive flip top bottles. However, behind the trendy bottles was a well respected Dutch brewery, founded in 1615, and a fine pale lager they brew too.
Now I'm as cynical as the next man about the new trend towards 'beer families' – leveraging a successful brand name into other, less obvious brews, but when I saw Grolsch Premium Weizen on the shelf I thought I'd give it a try.  And so, on a surprisingly mild October day, after cutting the lawn I turned my attention to the brew.
You will see from the photograph that, for the benefit of Coops, I dusted off a traditional Weissbeer glass for the occasion. Despite that large aromatic head, there is a full half litre of 5.3% ale in there!
And tradition is a good word to use in this respect… this is a classic Wheat beer, the nose is spicy, with coriander overtones and the merest hint of orange peel, very understated, no banana in here.
A good mouth feel, heavier than a pale lager, but not too 'chewy' – exactly what it should be. And the flavour is perfect, slightly sour, slightly sweet with hint of the suspended yeastiness. Full flavour and without the slight 'industrial' taste that some other Wheat beers bring with them.
Traditional…that was the word I used. Yes, this is a traditional wheat beer; better than that, it's a classic!  I would suggest that this is probably a good yardstick to measure other wheat beers by, and in coming weeks I plan to do just that.
No question – five stars.
Rating: