In recent years InBev have been trying to diversify their lager sales from purely Stella Artois into 'The Artois Family'. This is a strategy employed with reasonable success by Kronenbourg (more on this another day) who are now owned by Carlsberg. Initially the 'Artois Family' comprised Stella Artois, Peetermans (which is best described as 'wheat beer lite') and then Artois Bock, a potent 6.2% dark "Vienna" style beer.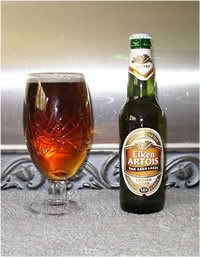 Artois Bock was sold in small (275ml) bottles and only in half pints on draught. Although I confess I only saw it available on draught once. I put this in the past tense because earlier this year Artois Bock was dropped by InBev from the 'Artois Family' to allow Eiken Artois to be born. Eiken Artois is being sold as 'oak aged' and being pitched as a premium lager.
Frankly Eiken Artois is disappointing, the result of marketing over flavour, or even heritage – can anyone name another oak aged Lager? Elken Artois comes out as a warm pale brown colour, but with hardly any head, and even the best efforts of the 'sparkler' etched on the bottom of the Artois 'chalice' couldn't produce anything meriting the name.
And the flavour? Well there's nothing discernible from the oak. From drinking oak aged wines it might be reasonable to expect a hint of Vanilla, or even some of the mellowness associated with beechwood aged beers, but Eiken Artois delivers none of this. It delivers a thin, not necessarily pleasant taste, slightly metallic, and not particularly refreshing despite its 4.6% ABV.
For inspiration, Artois would have been better looking to other 'red' lagers such as George Killian's 'Irish' Red or Staropramen's 'Granat' rather than come up with something this spurious.
This one won't be reappearing in my beer fridge and frankly, as a brand I suspect it will be pretty short lived. Expect another new arrival in the Artois family before too long.
One star – for being brewed in Leuven and not under licence in Wales!
Rating: