Scott, The Brew Club's host and editor sent me an unusual email the other week. He'd stumbled across some beer flavoured sweets in a British online sweet-shop.  – some people have way too much time on their hands!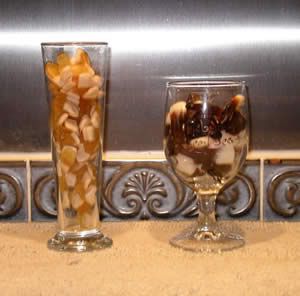 Well it's a dirty job, but someone has to do it, so I ordered some of these sweets (as we call them), strictly for research purposes you understand.
The sweets are 'gummi' and while I've tasted cola bottles and the like before, I had not seen these. There are two varieties, 'Pint Pots' and 'Lager Tops' – for the uninitiated a 'lager top' is not an item of clothing, it's a pint of lager with the top inch or so replaced with lemonade – as opposed to a shandy which is traditionally 50/50 beer (or lager) and lemonade.
So to the sweets… well in all honesty the Lager Tops are far too 'lemonady' for my taste, with maybe the merest hint of something that might be lager-ish underneath. The Pint Pots are a different matter altogether, larger, with a creamy head (literally – it tastes like milk bottle gums) and then a dark, slightly ale tasting 'body'.
Showing immense restraint I've mailed Scott half of the sweets I ordered, so we shall see what he thinks.
Personally (and I never thought I'd admit this) I think I prefer cola bottles!  Let's see what Scott thinks of the Beer Gummi Candy next!
Well, I received the beer gummies from Bob not too long after he had sent them to me, and just in time for Halloween!  What a tie in, right?  Beer, Candy, and Halloween!
Like Bob, I'm a big fan of gummi candy – gummi bears, gummi worms, gummi cola bottles – if its gummi candy, I like it!  It seems the British have a much greater liking of candy – I remember when I was there a few years back, there were sweet shops all around with the craziest candy imaginable.  What a Country!
Anyway, on to the beer gummi candy review.  I agree with Bob that the Lager Tops tasted to me more like lemon-flavored gummies, which in itself is not a bad thing.  There is a little bit of a beerish essence in the taste, but just a touch.  Interestingly enough however,  the Lager Tops in the plastic bag do indeed smell like beer!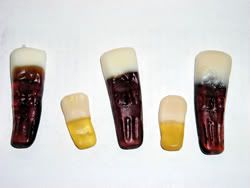 The 'Pint Pots', as Bob mentioned are much better mimicking actual beer in gummi form.  They are bigger, they have a stronger beer aroma, and actually taste like beer.  They're a little gooier than the Lager Tops – (I prefer a little more firmness in my gummi candy, thank you).  I wish I could compare it to an actual beer I've tried, but they are still way too sweet for that!
I think either the Pint Pots or Lager Tops gummi candy would be great as a fun snack if you're watching the game with some friends, or as a treat for that special beer lover in your life.
Thanks again Bob for sending them over for me to test!