While Scott's been going through his own 'Octoberfestathon' ™ for The Brew Club, I've be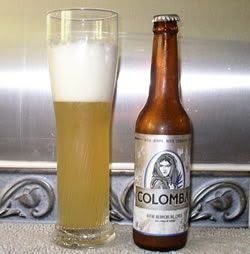 en working my way through some classic (and less classic) wheat beers. And today, with a clean palate and high hopes, I turned my attention to 'Colomba' from the Petra brewery on the French island of Corsica.
By all accounts Pietra is Corsica's only brewery, Corisca's main claim to fame is that it is from there that Napoleon Bonaparte hailed. Maybe that's why they serve their wheat beer 'Colomba' in 330ml bottles rather than the traditional 500ml. (Get it???) The brewery would have you believe that the brew is flavoured by a giant bouquet garni of local herbs and flowers added to the brewing mix.
The brewery also makes a local Whiskey, Cola, Lager and Ale as well as the Colomba wheat beer. Maybe there's a clue there.
They needn't have bothered, despite being brewed to 5%, this is a pale, insubstantial attempt at a wheat beer that disappoints in aroma, mouth feel and flavour. It just doesn't work.
It's a bit like the American version of 'Life on Mars' – all the ingredients are there, but… it just doesn't work.
Actually I'm being unfair. The American version of 'Life on Mars' is better than this beer.
No stars… that's ten minutes of my life stolen by the perfidious French.
Rating: