This beer review of Keegan Ales Mother's Milk Stout is a 'rogue' beer review that I'm doing for The Brew Club!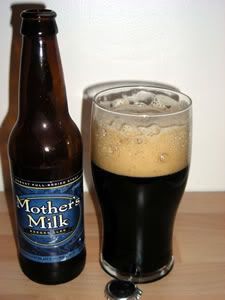 Why rogue, you ask?  I got it outside of an 'official' Brew Club beer exchange!  Actually, the Mother's Milk Stout came from Paco's 60th birthday party last week near Wallkill, NY!  Happy Birthday Paco, and thanks for the beer!!!
I've just gone through a bunch of Oktoberfest beers, (still have a couple more to do) but this beer from Kingston, NY happened to enter my world and I thought I'd put it to the front of my beer reviewing list!  This Keegan Milk Stout is also made relatively local to me – Kingston, NY isn't more than a couple hours north of my location in 'fabulous' New Jersey, and its been awhile  since I reviewed a local beer.  Trying local beers is a good thing!
First of all,  this beer has one weird name – to me anyway.  Mother's Milk?  Why?  Maybe there's some meaning to the name?  Of course there is!   There is variety of Stout called "Milk Stout' that has lactose in it.  (Lactose is the sugar found in milk and milk-related products and sometimes gives people belly aches.)  Apparently, the lactose sugar adds sweetness to this style of beer, and as we will see, heavy body as well.
Interestingly enough, Milk Stout beers were apparently considered nutritious enough to give to nursing mothers! Any excuse, right?
So that explains the name.  Now on to the beer!
Damn this is dark beer!   This Mother's Milk Stout is so dark, it is almost black.  Like a black hole in space, light does not escape this liquid darkness!  What does escape though, is very nice aromas.  Malty, molasses-like sweetness that also contains a subtle combination of  coffee and chocolate. Very interesting!
Mother's Milk created a big tight head in my glass that was brown in color, (darker than Guinness if you are familiar with that) and it also left some heavy lacing on the glass.
The taste, to me, was exactly like the smell.  It had a roasty kind of taste with subtle chocolate/coffee hybrid flavors infused.  As might be expected, this beer was just a little bit sweet, but nothing that will make you think you are having a wine cooler or Bud Light Lime!  As previously mentioned, this beer has a really thick body, and a noticeably heavy mouthfeel.  Its smooth, and leaves a nice aftertaste, but it gets a little sticky afterward, which just encourages a follow-up swig!
Overall, I really liked this Mother's Milk Stout beer from Keegan Ales in Kingston, NY.  It's a very satisfying beer and simply perfect for the cooler months of the Fall or Winter.  If you like Guinness, or beers similar to that, I think you'll really enjoy this beer.  Also check out our beer review of Lancaster Brewery's Milk Stout!
Rating: