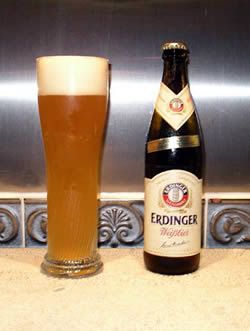 My recent tasting of Grolsch Premium Weisen for The Brew Club reminded my how pleasant a good wheat beer can be, so I decided to rummage through my beer fridge and see which others I had stored for a sunny day. In the absence of a sunny day, an October evening will have to suffice.
Erdinger are one of the best known producers of weissbeer, and there is a rivalry between those who favour Erdinger over Paulaner and vice verse that is as strong as the rivalry between Manchester City and Manchester United (insert your local sport / rivalry here).
I'll have to try both in the same session to provide a real comparison.
Anyway in the absence of a Paulaner, on to the Erdinger, a classic 5.3% weissbeer, which produces a thick foamy head that's less aromatic than the recent Grolsch. None of the expected scents of coriander or orange peel here, but maybe a hint of vanilla, and maybe even bubblegum.
The beer itself is light and refreshing, a light mouth feel, and while there area few hints of hoppy bitterness the overwhelming experience is slightly sweet. Slightly being the operative word, it's not sickly sweet by any stretch of the imagination, it's refreshing, but not challenging.
On a hot summers day this would go down well, better than a lager perhaps, but it just doesn't linger in the memory like a true classic should.
Four Stars.
Rating: