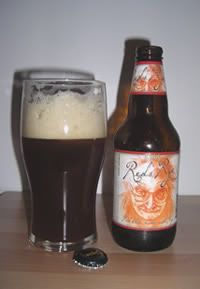 Today's Beer Review is an Ale from Founders Brewing Company called Red's Rye Ale! It's called Red's Rye because its a reddish-colored beer that is made with rye. (duh)
Getting past the creepy old-guy cartoon on the label that reminded me of a creepier Dick Cheney, the Red's Rye Ale pours an extremely bubbly head that really took its time going down!  A lot of carbonation it seemed to me, but after about 10 minutes or so the beer was at a suitable drinking stage.  This is actually fine with me because the less bubbles in the beer mean less gas in my gut!  There was a very good amount of lacing left on the glass that remained until the glass of beer was finished!  You don't see that too often!
The color of the Red Ale is certainly of the Reddish persuasion – looked a little like an apple cider type of color to me – kind of reddish, kinda brownish.  Speaking of apple cider, this red ale was extremely cloudy!  Even when I put the glass directly up to a bright light, I could not see through the cloudy liquid.  Upon closer observation, one can actually see specks of 'stuff' floating around in the mix, so it does not appear to be a beer that is overly filtered.
The Founders Red's Rye Ale had a nice smell, somewhat floral and a little bit sweet – I think I could pick up a bit of a honey or clover scent in there which was nice but I couldn't help think there was pine or something earthy smelling in there as well.  Hard to say what it was…
The taste was very interesting.  This is my first Rye beer, so I can't really compare it to any of the beers I've had in the recent past .  Its definitely a bit on the spicy side, perhaps due to the rye, and you can easily taste the hops, maybe a little too hoppy for my taste.  Its certainly a beer with a lot of character, but I would have to have another rye-style beer to know if that is characteristic of the style or not.  Anybody know?
The aftertaste was a little biting, slightly bitter and dry, but not bad, and much like the everlasting foam head this beer created, the aftertaste lingered on for some time as well!
So.  What's the verdict?  Did I like it?  Yes and no.
The Red's Rye Ale from Founders Brewing is a very interesting Rye Ale, which many, many people like and indeed claim is the best-of-breed.  Not having anything to compare it to personally, I can only say (again) that it is a beer with a lot of character.  It's spicy, full of flavor, and decently hoppy if you like that sort of thing.
Myself, not being a 'hophead' type of beer fan, can appreciate the quality and character of this particular beer, but like the IPA style, I'm just not a huge fan of overly-hopped beers and so I probably wouldn't have it again.
Technically, its a really good beer, very different.  If you see the creepy old guy beer label, pick it up and give it a shot!
Rating: