There was some discussion here on The Brew Club recently about flavoured beers, particularly lagers with added lime.  As I commented at the time, 'lager and lime' is quite a common drink here in the UK – basically a glass (or pint) or lager with a sloosh of lime cordial added at the end!
Recently Becks introduced a bottled lager with added lime and while I respect Becks as a brand, I confess haven't yet tried it.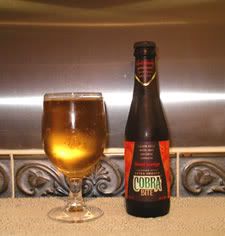 When, last weekend I saw that Cobra had introduced a 'blood orange' lager I simply had to try it.  Do you get blood oranges in the US? Imagine a slightly sharper, less sweet orange, with blood red flecks in the flesh.
Cobra, for the unitiated, is an Indian style lager, brewed originally in Bangalore for the English market. England has around 7,000 Indian restaurants (my town of 16,000 people has five with another one coming!) and it is almost traditional to consume lager alongside your curry. This tradition can be traced back to 1924, when Prince Axel of Denmark delivered a barrel of Carlsberg to the restaurant 'Veeraswamy' so he could enjoy a lager with his curry.
Cobra was brewed to be less gassy than other lagers and from their initial 5% Cobra lager they have recently introduced a 'King Cobra' which undergoes a secondary fermentation at the Rodenbach brewery to take its strengthy up to 8% ABV. I'll review this beer at a later date.
So, to the Cobra 'Bite' Blood Orange Lager comes in 250ml bottles, brewed to 4.7% ABV. As you can see from the photograph, there's a hint of a head, about what you'd expect from a beer that was brewed to be 'less gassy'. The nose is distinctive, with a clear orange 'zing'.
The overall mouth feel is really pleasant, a reasonably full bodied lager, not too light and not too heavy. The orange flavour cuts through and actually enhances the lager. I'm not sure if I'd drink this again, but as Sir Arnold Bax famously said "One should try anything once except incest and morris dancing"!
They also do a 'Sweet Lime' and 'Lemongrass' flavours, clearly aiming to break into the Thai restaurant market. I'm not sure if I'll try them… but if it's a choice of that or Morris Dancing…
Rating: