The Brew Club has been trying its best to review as many Oktoberfest beers and Fall Seasonal beers as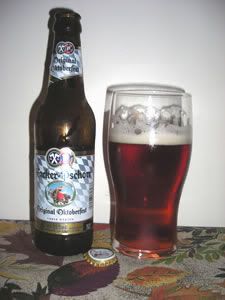 possible during this 2008 Fall Season.  Today, we continue the trend (a little late) with a beer review of the Hacker-Pschorr Original Oktoberfest!
The Hacker-Pschorr Oktoberfest comes from another very old German brewery in Munich that was started in 1417.  Jeeeez they've been making beer a long time!
Similar to the Paulaner Oktoberfest that was recently reviewed, the Hacker-Pschorr pours into the glass with a perfectly clear coppery medium-amber color.  Initially, this Marzen created a large, cream-colored foamy head, (did I say large?) but it dissipated rather quickly into basically nothing, and there was little to no lacing on the glass except for a bit around the rim.
This Oktoberfest had a sweet malty smell, a touch of caramel, kinda bready –  but otherwise nothing really jumped out at me as a dominant ingredient. Very middle-of-the-road I think in that realm.
How's it taste?  Generally, in the taste, (similar to the smell) there is some of that sweet, malty,  bready action, but then it turns a bit bitter, and if I wait even longer between sips, I taste a little bit of a metallic something-or-other that was somewhat surprising to me.  Hmmmm.
There is also more hop flavor that comes through afterward I think than the Paulaner version demonstrated, but it isn't anything overwhelming.  Its still pretty well balanced. I'd describe the mouthfeel as something between light and medium, and its definitely on the smooth side if you get those bubbles out in the head!
Overall, this Oktoberfest brew from Hacker-Pschorr was more than decent, but I think the Paulaner Oktoberfest version is definitely superior in the German Oktoberfest beer category!
Rating: