This beer review is likely the last one that The Brew Club will do for the Fall 2008 beer season.  We've racked up quite a few reviews of Fall Seasonal beers, German and American Oktoberfest beers, and also a couple beers in the 'love it or hate it' Pumpkin Beer category.  (Collectively, we've called it The Brew Club Oktoberfestathon) This latest review is in the Pumpkin Beer category, and it's called Jack's Pumpkin Spice Ale, brewed by Michelob Brewing Company.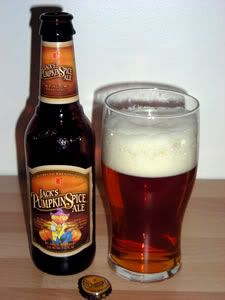 The Michelob Pumpkin Spice Ale is a clear, very light amber color beer that creates a decently foamy head that fizzes out in a few minutes.  There is a little bit of lacing on the glass that clings just a bit, but nothing out of the ordinary here.
The label states that in addition to Pumpkin, this beer is brewed with "Seasonal Spices including Nutmeg, Cinnamon, Ginger and Clove" but I have to say that the only thing I could pick up on when I smelled the beer was some clove, and mild hops.  The other stuff either was in such small quantities that it blended into a general smell- I just wasn't getting it!
In the taste department, I was a little bit surprised at first.   At first sip, I thought I could pick up on some of those ingredients that were mentioned on the label, but the more I had of this Pumpkin Beer, the less I could taste of it.  I didn't really get a pumpkin flavor, ever, possibly some cinnamon, but mostly there is a little burn on the tongue that tells you that there is some ginger in there someplace.  There was a little bit of a hop bite, unless that was the ginger, and a little bit of that in the aftertaste as well.  Overall, the taste was not distinctive, quite average, and if I had not looked at the label there was no way I would have known this was a 'Pumpkin Ale'!  Mouthfeel was pretty thin, kinda watery and not much body (is that redundant?)
To me, the Michelob Jack's Pumpkin Ale was average at best in all departments.  It wasn't a bad Pumpkin Ale, but it wasn't good either.  I think if someone were wanting to try a pumpkin ale who never had one before, they would be turned off by the whole Pumpkin Beer concept after having this one.  That's actually a shame because there are several Pumpkin Ales out there that are very good!  Let's put it this way – you won't spit it out, run into the corner and force yourself to vomit, but you likely won't have another one either.  I know that I won't.
Rating: