Down at my local, after a couple of pints, I am sometimes asked to name my favourite beer… this is always tricky.
Do you mean my favourite beer on a hot summer's day with burgers cooking on the barbecue? My favourite beer to go with a fiery hot curry? Or my favourite beer on a cold winter's evening by the fireside?
Well I guess there has to be an overall favourite, and for some years now it's been something slightly unusual – a Biere de Garde from Flanders in northern France.  This might surprise anyone who read my recent beer review of the 'Colomba' wheat beer from Corsica – my favourite beer is French!
In contrast to the Colomba wheat beer, Biere's de Garde are full bodied, usually fairly dark, strong and sweet. They are traditionally brewed in the summer and designed to be laid down for a few months (coming as they do in Champagne style bottles) to be enjoyed in the winter, much like a 'Saison' beer or a 'winter warmer'. The main beers in this style include LaChouffe (from the Belgian side of the border), Tres Monts, and La Choulette.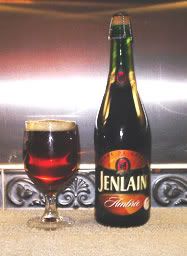 My personal favourite is Jenlain from the Duyck brewery, founded in the 1920's near the border between France and Belgium.  Made with three roasted French malts and three types of hops from the Alsace region of France, Jenlain Ambree is brewed to a very respectable 7.5% – clearly NOT a 'session' beer this one.  And one to be enjoyed at room temperature.
From the moment you remove the champagne cork you get a full malty nose, and a latte coloured head when you pour the beer.  The flavour is rich and malty, slightly sweet, slightly spicy with a subtle hop bite that reminds you you're drinking something special.  Some have described a hint of apples or Armagnac, but they're way too subtle for me, let's just say that this is a sublime example of a rare form of brewing.  Not challenging like some of the more exotic beers, but a fine, satisfying pint. If you ever see large champagne bottles with French labels in your local beer store, you're in for a real treat.
Five Stars – for my favourite beer what else could it be?
Rating:
I've just noticed a bottle of La Chouffe on my shelf, it could be a very pleasant winter!