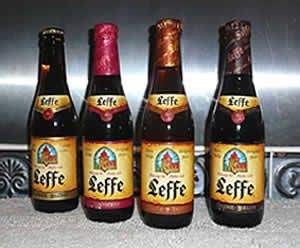 While I was in Brussels recently almost every bar seemed to have Leffe on draught.  Don't get me wrong, I wasn't complaining, but as a Brit I found it strange for such a fine beer to be well, so readily available!  There are a select few bars in Central London that stock it, but in the UK, for the most part Leffe is strictly for beer aficionados!
I suppose I shouldn't have been that surprised, Leffe is part of the global InBev empire and brewed at the vast Artois brewery in Leuven. It still clutches to its 'Abbey' heritage though; the Leffe glass is modeled on a chalice, and the logo shows an abbey building, represented in stained glass.
Abbey beers are different from (although similar to) Trappist beers, they are brewed by commercial breweries in something approaching the Trappist style and tend to take the name of a nearby Abbey.  This is a largely successful endeavour by the Belgian brewing industry to cash in on the reputation of Trappist beers.  In the case of Leffe, the brand was resurrected in the 1950's although the original abbey was devastated during the French Revolution; beer hadn't been brewed at the Leffe Abbey for nearly two hundred years.  And indeed still isn't!
'Trappist' beers, on the other hand, are still brewed (as the name might suggest) by serving Trappist monks in the surviving abbeys (Five in Belgium, one in Holland).  Examples of Trappist Beers include Chimay, Orval and Westmalle, all fine ales in their own right, and some tastings I'm looking forward to, on your behalf!
There is an apocryphal tale that the Belgian Government cracked down on the sale of spirits after the first world war, which is why Belgian beers tend to be brewed for strength as well as flavour.
The two main Leffe brands are Leffe Blond and Leffe Brune, both available on draught in Belgium and (as before) a few select bars and cafes around Europe. However on returning to the UK I remembered a Leffe gift pack I had on my shelf so, purely for the purposes of research, I submit the following Leffe beer reviews!
.
Leffe Blond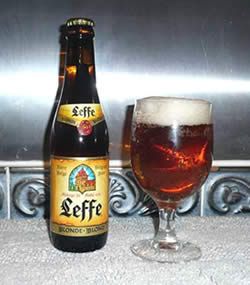 We'll start with what should be the lightest of the Leffe family, although still a respectable 6.2% ABV, as you can see Leffe Blond came out considerably paler than I remembered, but make no mistake, despite its pale amber colouration, this is a full bodied ale. It has a full mouth feel, and a substantial head that lasted well down the glass, leaving a distinctive lacing down the glass.
The flavour is well rounded, slightly sweet, slightly spicy, but with all these brews there is something that is distinctively 'Belgian'.  Okay so not quite trappist, but once you've tasted a Belgian beer, you'll spot that flavour whenever you are fortunate enough to encounter it.
There are hints of vanilla and toffee in this flavour, it's not too heavy, in fact, I was pleased to note that I had a large (75cl) bottle of Blond on my shelf for the weekend.
Rating:
.
Leffe Brune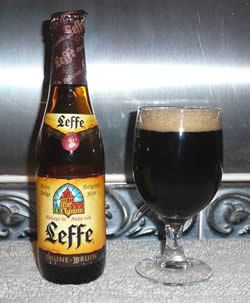 Moving on to Leffe Brune, again at 6.2%, you notice that the head is a latte coffee colour, and doesn't last as long as the Blonde, but it still leaves a respectable lacing down the glass.
Leffe Brune is full bodied, close to a Stout or a Porter, but not too heavy, very quaffable. (Terry Pratchett – one of my favourite authors – describes quaffing as 'a lot like drinking, but your ears can get wet'.) The flavour of the Brune is altogether richer, fuller, slightly sweet, but ultimately satisfying there are notes of dark treacle, and chocolate, and a hint of coffee, but it's not too sweet.  Against these ales, most lagers and British ales pale (no pun intended) by comparison.
Other tasters have argued between Leffe Radieuese and Leffe Triple (see below) as being among the worlds best beers, I would add that if you're lucky enough to find it on draught, Leffe Brune is one of the world's best draught beers.
Rating:
.
Leffe Radieuse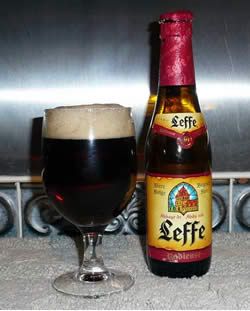 After Blond and Brune, Leffe Radieuese is only available in bottles, but at 8.2% ABV it's not something you would expect to encounter on draught.  As you pour, the head is the colour of a stronger latte than the Brune shows, the beer is a rich ruby colour if held up to a bright light, and the coffee connection follows into the flavour.  There are distinct hints of strong coffee and dark chocolate… and a deep rich fruit cake flavour in there, but I also got hints of caramel and even honey.
All in all a very satisfying drink, my favourite of the bottled Leffe's by a small margin, one to treat with respect though.
Rating:
.
Leffe Triple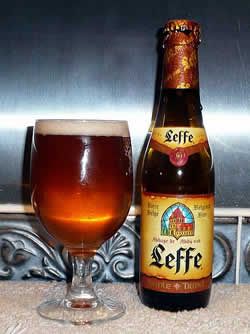 Finally to Leffe Triple, brewed to a full 8.5%.  This is still not the strongest of the Leffe brews, there is a 9% brew around, but I've not managed to find that yet.8.5% should still be strong enough to be a cause for some reverence.
Leffe Triple is the only bottle conditioned ale in the Leffe range and comes through very dark, more of a garnet than a ruby, with a more coffee coloured head. The body is full and the nose slightly sharp, but that sharpness doesn't translate into the flavour which is rich and warming. Again the roasted barley comes through to give a coffee / chocolate flavour, with maybe the merest hint of bitter oranges and spice.
Rating:
So, in conclusion, Leffe produce a fine range of Abbey style beers. As such they're industrial rather than craft or artisan beers, but they're full bodied, full flavoured and well worth seeking out.
BTW,  Microbrew Kits are a great way to start if you're thinking about brewing beer from home!