After a brief hiatus, I have decided to make my glorious return to beer reviewing by checking out Coney Island Lager which is brewed and bottled in New York by the Shmaltz Brewing Company.
At first glance, the bottle definitely sticks out on the shelf when you're browsing for new beers to try.  I picked up the 22 oz one ($3.99), just because of the look of the bottle!  It has a creepy looking puppet with a big smile, and tattoo's all over his face.  The label says for 'Lager Freaks and Beer Geeks'. (A definite calling for The Brew Club members!)
As I open the bottle of Coney Island Lager, I have a sniff and pick up a very hoppy caramel aroma to the beer.  To be honest, it smells like a good solid beer.  When pouring the beer into the glass, it produces very little to no foam.  The color is light amber to almost a dark orange type of color, and it's pretty cloudy also.  As I take my first swig of Coney Island Lager it has a bitter taste at first, but finishes slightly smooth.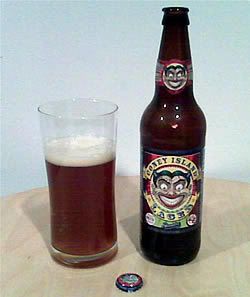 The label it says that this brew is composed of 8 malts, 6 hops, & Czech pilsner yeast.   Perhaps that is why I'm having a difficult time of pinpointing what this beer tastes like exactly!  The beer is slightly heavier than your normal lager might be, and I've also noticed that the cloudiness of the beer remains even as I slowly continue to drink the beer.  The Coney Island Lager has a 5.8% alcohol content, so it definitely has a slight kick to it.
In my opinion, one cool thing that I have noticed on the label is that the Smaltz Brewing Company (He'Brew Beer) brews the Coney Island Lager.  All the proceeds of this beer are going to the Save Coney Island Foundation, which works to preserve the famed playground Coney Island in NYC – so you can also drink for a good cause!
The Coney Island Lager is a pretty decent beer, but I would find it difficult to drink more than 2 because it gives you a full feeling after drinking it.  Given that, it's definitely a very drinkable beer, and if I were at the bar I'd definitely order this brew!
I give it 3 1/2 stars!
Rating:
Liz