I think its great that certain things are only available at certain times of the year.  Case in point – eggnog.  Who would enjoy eggnog in July?  Same case can be made for seasonal beers to a degree – not so much that you couldn't enjoy a 'Summer Ale' in January, but there is still something special about certain types of beers being available only at certain times of the year.  The Sierra Nevada Celebration Ale 2008 that we are reviewing today for The Brew Club is a perfect example of this tradition!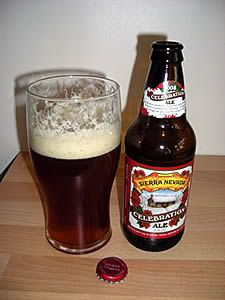 This 6.8% APV offering for 2008 from Sierra Nevada Brewing, Co pours into my glass in a semi-transparent, medium-amber color that created a nice, foamy head.  The foam went down in short order, but it left some very heavy lacing on the glass the whole way down.
The thing I noticed most about this Celebration Ale was the scent.  Big time.  I had opened it in my kitchen, and as I was pouring it into my 'official' tasting glass, I could get a whiff of the hops without even bending down to deliberately smell it.  The same was true as I picked up the glass and walked into my 'official' drinking area – the very hoppy scent of this beer literally wafted above it like no beer I can remember!  Its definitely big on the aroma department!  Upon closer examination, I could pick up something of a citrus or spiciness, but the hops really, really dominate here.
Taste.  The 2008 Celebration Ale tastes almost like it smells.  Hops are big in the flavor, real big – and there is a decent amount of bitterness to this beer which typically I'm not a big fan of, but it works well in this beer somehow.  There was a bitter aftertaste, but it wasn't of the ever-lingering type.  Besides the bold hops, I was unable to really pick up on anything else in the flavor department besides except for maybe a slightest kind of citrus taste.  I was hoping, I guess, for a little more in that area.  This beer was medium-bodied, and it didn't leave my mouth feeling sticky.
So, here's the deal.  If you like hop-dominant beers done well, I think you will really like the Sierra Nevada Celebration Ale.  If you like the IPA style of beer, I think you will also like this offering.  I'm not sure if Celebration Ale is an IPA, but it sure reminds me of one!  On the other hand, if you don't like big hop beers or the IPA style, I think you'd probably prefer something else for the Winter season!  Definitely a good beer, but you preference will determine how much you like it!  I'll admit to being a guy who prefers beers that are less hoppy than this, but I recognize this is a pretty good beer all the same.  So, while I'm giving it only 3.5 stars, someone who really likes the style would provably give it a 4.5 or maybe even a 5.
Rating:
Want to brew beer at home?  Home Beer Kits make great gifts for Christmas!