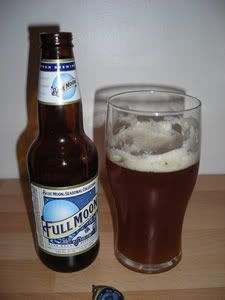 Now that its getting colder outside and we're moving from Autumn into Winter, its time for The Brew Club to start reviewing Winter seasonal beers!  Today's winter beer review is Blue Moon's Full Moon.
We've reviewed several beers made by Blue Moon Brewing Co, (Molson-Coors) and for the most part they have done a good job at creating a good product.  How does their Winter brew stand up?
This Ale is a semi-transparent medium amber that sort of reminds me of iced-tea in my glass.  It creates a good bubble-show when poured from a proper carbonation-removing height of several inches above the glass.  A decent foamy head works its way up he glass, and then slowly fizzles out leaving a bit of heavy lacing that eventually works down to some just around the rim of the glass.  Soon enough though, this beer becomes totally flat.
The smell of the Full Moon Ale is pleasant – sweet certainly, malty perhaps, but nothing too strong or really distinctive.  It seems well balanced and doesn't smell too 'beery' (that's a technical term) to me at all.  According to the label, this 5.6% ABV is brewed 'with roasted malts and a hint of Dark Belgian sugar…'Sounds nice, right?  Well I think that's what you pick up – sweet and malt.  Easy!



The taste was a bit of a letdown for me.  I'm not exactly sure what I was expecting, but I was underwhelmed by the experience!  This ale was a bit on the thin side, kind of watery actually.  There was something of a mild sweetness to it, but nothing distinctive about the flavor at all.  Bland really.
On the other hand, its a drinkable beer if you don't want a beer that has too much bite, or if you don't like beer with too much character, or you generally aren't a beer drinker – this might make a good 'gateway' beer for someone who is looking to try something other than the typical macro American Lager.  (I think the new Budweiser American Ale falls into this category as well.) This Blue Moon beer, isn't bad, but it isn't great either.  The best I can describe it is 'solidly average'.  Blue Moon's Full Moon is not a beer that you will remember, but you could certainly do worse than this for the Winter season.
Rating:
Thinking about Home Brewing?