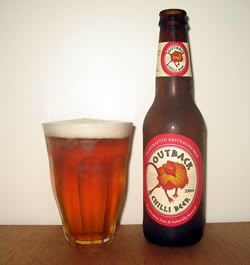 Usually, when attempting to intertwine two things you love a bit too closely, there's always a chance the result will be disappointing.  Sex while drag-racing, trying to fall asleep listening to heavy metal, putting chilli in your beer…
…Hang on, that last one might work.  Someone at the Outback Brewery thought so, and I was persuaded by the sheer novelty value of Outback Brewery's Chili Beer to try it!
This is a 4.8%, full strength, hand crafted, chemical and preservative-free Australian beer infused with two types of fresh chillies. They classify it as an Amber Ale.
It won a Gold award in 2004 at the Australian and International Beer Awards in the Herb and Spice Category, and two Bronze awards in 2006 and 2007.
As you can see, it is a conventional looking, amber-coloured beer.  There are no distinctive odours, neither hops nor the expected chili aroma were especially noticeable to my hesitant nose.
The first sip is extremely rewarding.  The chili, breathed out through the nostrils, tingles and warms very pleasantly.  I wanted every sip to be like the first but, alas, cleansing the palette would require water and waiting. Two things Australians avoid when drinking!
A gentle, tingling sensation continues on the tongue, renewed by each mouthful.  It slowly creeps down to warm your stomach. You know chilli is in this beer but nobody will be turning bright red, clawing at their throat, and asking for somebody to kill them.
That's right, Outback Brewery have resisted the urge to spice up this little number with the mistaken belief that 'a little is good, more is better'.  A big relief for those of us who like the TASTE and FLAVOUR of chilli, but resent having a FLAMETHROWER turned on in our mouths as some dubious test of manliness.
Perhaps predictably no other strong flavours come through.  Chilli is hard on the taste buds even in low doses.  Still, it is a very drinkable and strangely distracting.  I found myself saying "this is really nice" several times, interrupting conversations, and not offering one to anyone else.
Rating:
Check out more of what Coops has to say about life's other important issues on his blog 'Thought Control'