As it's Christmas, I thought I'd review a couple of different beers, head to head for The Brew Club, inspired in part by my recent trip to Brussels and partly by my trip to Beer Expo in London back in the summer.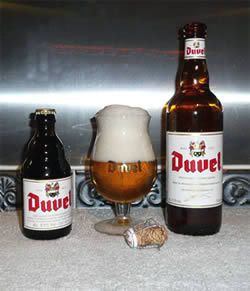 One of the best known and most widely available Belgian ales is 'Duvel', which can be categorised as a Belgian Golden Ale. As such it is neither an Abbey nor a Trappist ale, but is nonetheless a classic of its type.
The name 'Duvel' is derived from the Flemish for 'devil' and a number of other Belgian ales affect satanic names to suggest a familiarity with Duvel, (Satan, Lucifer, Brigand to name but a few) but this is the original, brewed by the Moortgat brewery since just after the first World War.
The recipe for Duvel is in itself interesting; you might recall my mentioning in a recent article about yeast, the story that Jacob Jacobsen carried the original strain of Carlsberg yeast from Louis Pasteur's laboratory in Paris to Copenhagen. Well, Duvel is still brewed using a strain of yeast purloined from a bottle-conditioned bottle of McEwans Scotch Ale. Similarly, British home-brewers have long used the yeast from bottles of Worthington White Shield to prime their brews.
A brew featuring Pilsner malt and Saaz hops would lead you to expect Duvel to be a lager, but the Scottish Ale yeast, and the subsequent (warm) top fermentation means this is an Ale and fruitier than any lager could be. And at 8.5% ABV this is stronger than all but the strongest of lagers, and most Belgian ales for that matter. Bottle conditioning, with a final dash of cane sugar and yeast completes a complicated brewing process, allowing the brew to continue fermenting.
"Enough history, and domestic science!" I hear you cry! "Bob… what's the beer like?"

Well, on opening the bottle you're greeted with a rich hoppy nose and as you pour you're presented with a rich foamy head that gently subsides, but traces a classic 'Brussels lace' though the glass.
Flavour wise, the hops hit first, but then you get the underlying cane sugar strength. It's an enjoyable brew, but not one for day to day drinking. And not necessarily for special occasions, it's interesting, and enkoyable, but not a beer you'd revisit too often. I think I'd go back to Leffe for 'regular' Belgian drinking.
Three Stars – a classic of its type.
Rating:
A few years ago, the Moortgat Brewery bought Brasserie d'Achouffe, and I just happen to have a couple of bottles of their ales on my shelf.  This just gets better and better!
Having reviewed a Devil Brew, I thought I'd turn to the side of the angels – GOD Lager!
Back in the summer I attended an interesting beer exposition in London for The Brew Club.  Scott posted a mini- review while I wrote about it in more detail on my personal Blog.  Unfortunately consuming more than several ales in an afternoon can compromise your palate so, whenever I spot a beer I remember encountering during that (very pleasant) afternoon I have been trying to revisit them!
One beer we tasted that afternoon was the modestly named 'God Lager' from the Nils Oscar brewery in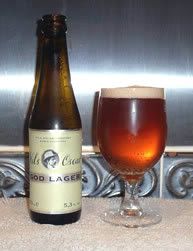 Sweden.  This isn't perhaps as heretical as it sounds, as 'God' translates to 'Good' in Swedish, and the brewery even grows its own barley to ensure the 'goodness' of its lager.  However the four different hops (yes four) used in the brew are imported, as hops don't grown that far north.
'God Lager' is brewed using a fairly dark malt, giving the brew a rich amber colour, reminiscent of a Vienna style lager.  The beer is brewed to 5.3% ABV and is unpasteurised, a rarity for lagers in this day and age but I do have fond recollections of a warm afternoon drinking unpasteurised Pilsner Urquell in a bar in Prague. Being unpasteurised means that the nose is more noticeable than most lagers, the flavour is well balanced, a good mix of sweet dark malt and light fizzy hops, the lightly roasted malt means that there's a bit more flavour than your normal lager, slightly nutty, all in all very pleasant.
Being unpasteurised means a relatively short shelf life, but frankly, there's little fear of it remaining on the shelf too long!
3 1/2 stars… it's good, very good,  but not quite special enough to merit a 4th star.
Rating:
So there you have it… The devil merits 3 stars for his 8.5% Belgian Ale, while God's lager gets three and a half for his subtle 5.3% lager.   Of course that's only my opinion… but heck, it's Christmas!